F.I.T. Virtual Challenge: V.T.R. 50k, Valencia CA, 2020
(There!  I'm glad to get THAT out of the way!)
In case you've missed it, 2020 has gotten off to a pretty ROUGH start!  The word of the year so far seems to be 'Pandemic' and the most popular activity is to cancel all activities.  So, if you are signed up for cancelling something, YOU'RE IN LUCK!  However, if you were looking forward to running a Marathon, Half-Marathon, 10k, 5k, Spartan Race, to work, or a couple blocks to the store to pick up toilet paper, well, you're plans have been changed!
Like the rest of the world, my 2020 Race Schedule is one big question mark
right now as event after event sends out emails either postponing, turning into a Virtual Run, or cancelling altogether.  The 2020 SDCCU OC Marathon has turned into a Virtual Run for me since it's been postponed from May until November and right on top of the 2020 Santa Clarita Marathon that I'm planning on doing also.  My first ever 50k has been postponed from March 28th until May 30th, which is mixed for me.  I'm glad the event is still happening (for now) and I'm looking forward to it, but I really liked that it was in the end of March!  My entire race / training schedule is currently built with one thing in mind:
Survive the Spartan Big Bear Ultra-Beast on May 16th!
[UPDATE: Big Bear Ultra-Beast has been cancelled / postponed to a TBD date]
March 8th was the 2020 LA Marathon, which was a 26.2 mile training run to test my endurance compared to last year.
March 28th was the Valencia Trail Race 50k, which would give me a good indication of how I would hold up over 31 miles and a good chunk of elevation gain.  Now this event happens AFTER the Ultra-Beast it was meant to prep me for.
May 3rd was the 2020 SDCCU OC Marathon, just 13 days before the Ultra-Beast, and a final test run to make sure my training has been working, along with another chance to harden my mind and body.  With this being postponed until November, it meant that I didn't have ANY events to run between the LA Marathon and the Big Bear Ultra-Beast!  I could still train, yes, but I find I train so much better when I have race events to motivate me.  Don't get me wrong, the Ultra-Beast is a HUGE motivation!  It just feels much better to have a few 'run-up' events.  Gives me a chance to see if my training is working or if I need to tweak it.
So you can just imagine how STOKED I was when I came across a facebook post from F.I.T. Challenge announcing an event that was ACTUALLY HAPPENING!
From what I could tell, F.I.T. Challenge had a bunch of leftover swag from events they had done over the years and decided they could clear some of it out AND encourage people at the same time.  Now, I normally don't go for Virtual Run events, but with all the cancellations AND the need for motivation, I LEAPT at the chance and signed up!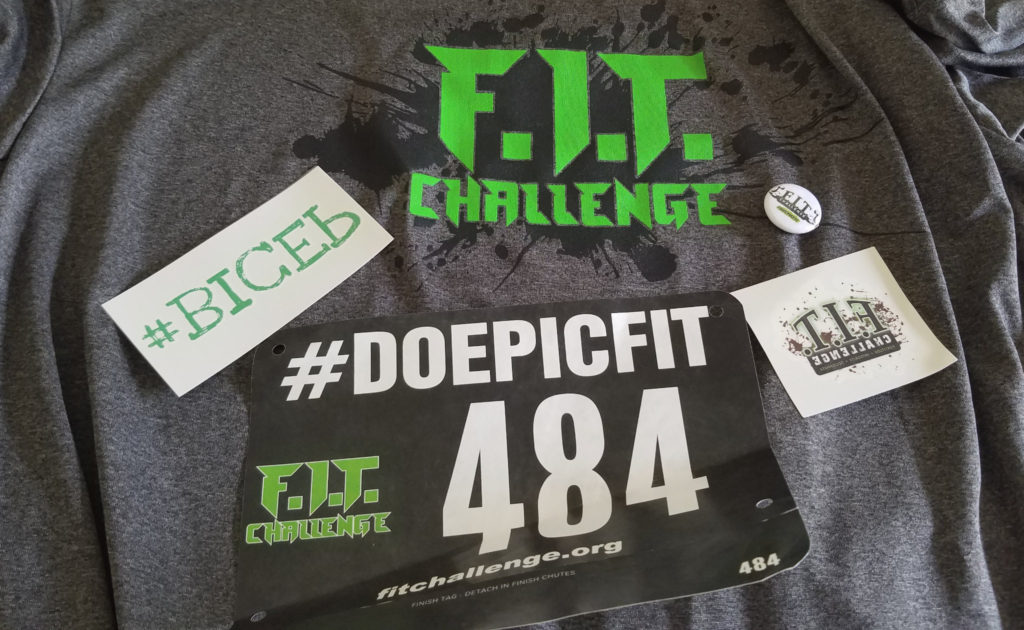 For only $25 (plus a very small processing fee) they shipped me a Finishers Medal (I got to choose from what they had in stock at the time) along with a F.I.T. Challenge event shirt, a Race Bib, and several other swag items (temporary tattoo, sticker, pin).  From there, the rules were quite simple: Decide what my challenge would be, complete it, then post some kind of proof on the F.I.T. Challenge facebook site.  Simple!  I didn't know I could get so excited about a Virtual Run, but when all other options were taken away from me, it felt awesome to have some sort of 'official' event to do!
I received my swag package along with a lovely note from the Post Office reminding me of how important I was to them and that they took delivering things to me very seriously. . .and, oh yeah,
they damaged my package.  Oops!
Still, I'm very important to them, and I should be aware of that.  Seriously, they like me a lot.  Chin up.  Enjoy your damaged stuff.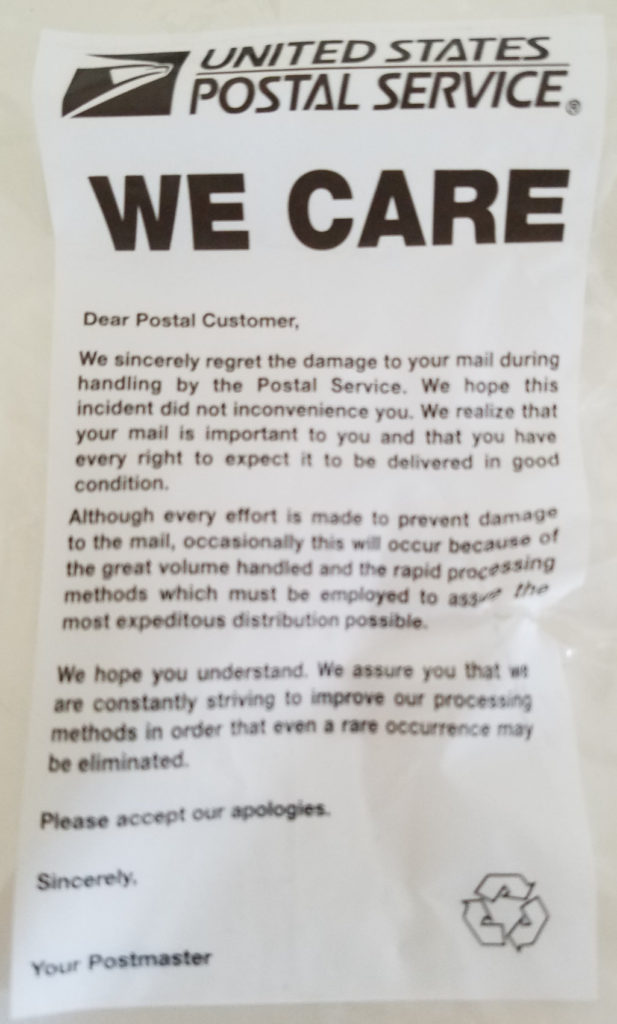 As far as I could tell, the package had opened up at some point during shipping and they closed it back up with packing tape, but not before my finishers medal had gone missing.  I contacted the F.I.T. Challenge people and they confirmed that the medal should have been there.  They were very sorry it hadn't arrived (not their fault), and were MUCH more heartfelt than the Post Office!  Another medal would be sent to me post haste!  To be honest, I felt a little bad about it since it seems they are a family company and I KNOW they aren't making much money off of this event, if any at all!  Between the two packages they sent me, they paid around $15 in shipping and I only gave them $25!
With my Race Shirt and Race Bib in hand,
I decided that I was going to run the Valencia Trail Race 50k on it's originally scheduled date after all!  Sure, there wouldn't be other runners to get energy from or aid stations to help along the way, but the trail head is only about 10 minutes from my house!
In all seriousness, this wasn't a decision I came to lightly.  I had never run past 26.2 miles before, and that was on paved roads.  This would be 31 miles up in the hills.  I would be out in the middle of practically nowhere for a good chunk of the day.  Without aid stations, I would need to carry enough water and food to last the entire event.  Since the course would not be marked I would need to make sure I knew where I was, where I was going, AND HOW TO GET BACK!  These were very valid logistic concerns.  I wanted to test my training, not get myself killed!
I thought about doing 31 miles on a shorter course that I could loop around.  It would give me the ability to store supplies at the loop point, but it would also give me the option to bail on the attempt should I feel I needed too.  That is ultimately why I decided against that option.  I was afraid that if I built in a way of quitting, I would probably quit.  My greatest chance to succeed was to remove the option to fail, so I loaded the GPX coordinates for the 50k course into Google Maps, charged my phone, filled up my hydration pack with a mixture of water and Tailwind (2 liters), grabbed enough GU Gels and Stinger Waffles to last for 10 Hrs (one every 45 min), and headed out at sunrise.
The head of the trail is actually on a private ranch.
I had been running up in this area only once before when the Valencia Trail Race Directors held a preview event, allowing us to run the 10k and Half-Marathon loops, so I knew basically where I was going.  This time, however, as I parked I noticed a large NO TRESPASSING sign on the outside fence.  Walking past that and down the dirt drive I came to a second gate that was wide open, but had a second NO TRESPASSING sign on it.  This second one made a point of adding that it meant from that point forward.  This one gave me a little pause.  I knew the trail head was about 100 yards PAST that point since I had been there before with a group of runners.  Does the VTR get special permission to access this part of the trail?  Probably, since it's a large event.  Do the ranch owners mind if runners use it on occasion?  Not sure, but I was pretty sure I remembered hearing other runners talk about having come up here to run the course from time to time, so after a few moments of deliberation, I briskly walked the 100 yards to the trail head, making a concerted effort to NOT look at the house in the distance.  It's kind of difficult to look calm, collected, and innocent while the only thought that is actively going thru your brain is of some ranch worker stepping down off the porch with a shotgun in his (or her) hand.  I don't know why, but I figured that once I reached the start of the trail I would be safe!
I'd shout:
"HA!  Can't touch me because I'm on a TRAIL!"
The ranch hand would throw their hat on the ground, spit to the side, and glare with utter-contempt.
"DAD-BURN RUNNER!  I'LL GET YOU NEXT TIME!"
It was 48° at 7:38am and I was underway!  I knew that I had a 500 ft climb at the very start, but after that I would be able to settle in, let my mind wander, and begin to cover miles.  All was going well up until mile 0.8 when I came to the sudden realization that I was about to experience a milestone first!  I was going to need to use the bathroom!  I had read many accounts of Ultra runners who all claimed it was necessary to carry TP with you while running long trails, so maybe it was fitting that on my first ever Ultra distance attempt I found myself squatting on the side of a mountain, surrounded by brush.  What I was painfully aware of, however, was that I wasn't in the habit of bringing TP with me!  I was faced with two choices.  I could quit, rush back to the car (under the withering glare of that ranch hand) and go home, OR I could suck it up and figure it out.  I won't go into great detail, but just know that I probably added about 5 minutes to my overall time agonizing over where the perfect patch of brush was (picturing a group of boy-scouts wandering thru on a mushroom hunt), and then I mysteriously lost a pair of glove liners.  I LOST THEM, AND I'D APPRECIATE YOU NOT ASKING ME ABOUT THEM AGAIN!  OK?
Having gotten off to a great start, I continued on to the top of the mountain, and to my next challenge.  Finding the trail!
When I had been here before the trail had been officially marked with ribbons.  Now, instead of ribbons, someone had put in a bunch of intersecting trails!  It seemed like a maze of paths!  Digging out my phone I consulted the course I'd loaded into Google Maps.  I found out that unless you ZOOM IN a fair amount, it will LOOK LIKE you are on the correct path until it tries to take you off a cliff!  Now, I did remember a couple of very steep descents, but I didn't remember any of them being an actual cliff!  After going back and forth for a bit and receiving a text from my Father asking if I was lost (he was following my progress on Live Track), I ZOOMED IN on the map and saw that I had taken one turn too early and the path I was supposed to be on was on the OPPOSITE SIDE of the valley in front of me.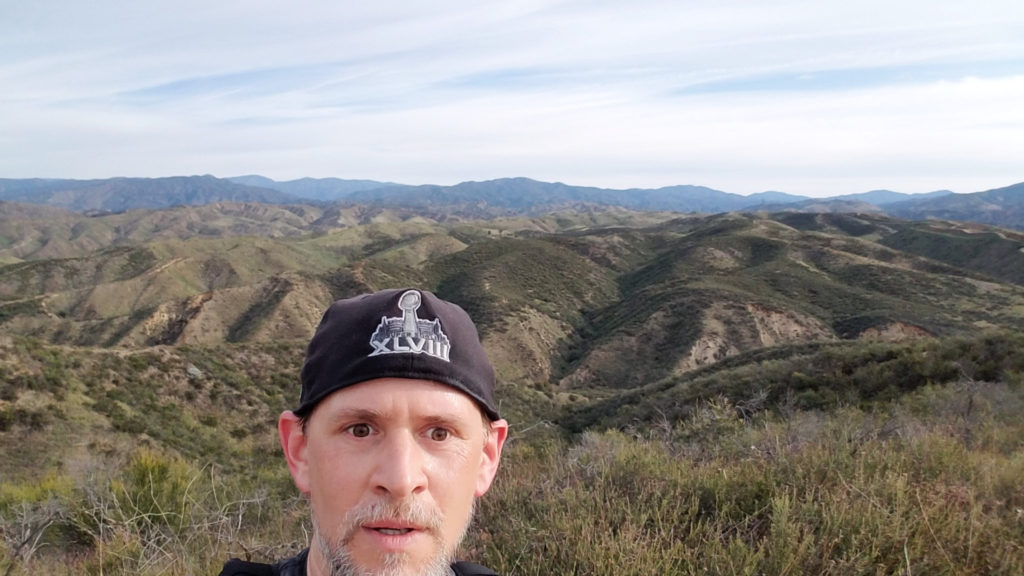 I retraced my steps and corrected my path, adding to my overall distance.  This happened a few more times and I found I was continually stopping to check my phone at intersections.  Adding to the difficulty was that cell reception was spotty out in the middle-of-nowhere!  I had a few times where I'd look at my phone and it would look back at me, shrug it's shoulders and tell me to take a wild guess!  I'd have to pick the path that looked the MOST LIKE something I VAGUELY REMEMBERED from a month earlier and check to see, when my phone could tell me, if I had guessed correctly!  All in all, I added about an extra mile in backtracking.  I call it Accidental Training!
Fortunately the confusing part of the 50k is all in the first 10k and Half-Marathon loops since they make up the majority of the single track trial running.  The Ultra loop mainly consists of dirt Fire Roads and is much easier to navigate.
All seemed to be going well until around mile 8 when my bowels let me know I wasn't done playing Nature Restroom.  By the way, Nature Restroom is NOT a fun game I would recommend.  But it would be made better if you remember to TAKE TP WITH YOU!  Once again I was toying with the idea of simply calling it quits and heading back to the car.  Since I was only about 2-3 miles into the Half-Marathon loop, I figured I could cut some corners and reach 'safety' in about 1-2 miles, but that would mean failing my 50k attempt.  I was facing a choice of failing in the name of comfort, or doing whatever I had to in order to achieve my 50k goal.
Not wanting to fail, I found myself once again looking for the perfect patch of brush.  Once again I was certain Mushroom Troop 42 was about to wander thru.  Once again I was pondering my missing glove liners and wishing that somehow I had only lost one of them.  Looking around I was happy to see I was surrounded by 'tall grass'.  I wouldn't make glove liners out of the stuff, but given the circumstances, it's better than the shiny-spiky green leaves that looked remarkably like Poison Oak.
Feeling a world lighter on my feet, I finished out the Half-Marathon loop,
enjoying the variety of short climbs and descents as I crossed back and forth across what looked to be a dried river bed.  This section of the course is beautiful!  I'd say that the 10k and Half-Marathon loops have the best variety of terrain, and if you love single track trail running, these are the sections you'll love.
Somewhere near the end of the dry river bed section I came across this strange relic.  Unless I'm mistaken, it's a territorial warning totem created by the mysterious Mountain-Bike Tribe!  Oddly enough, this unique Tribe seems to be made up of several different races and can be found mainly in mountainous or hilly rural areas, primarily on weekends.  If you are out on your own, be on the alert for the sound of rushing air and softly clinking metal, which normally precedes their appearance by a few seconds, giving you just enough time to jump out of the way before they go screaming by you.
(NOTE: the scream I heard might have been from my own throat, it's just so exhilarating to see this rare breed!)
You can tell the elders of the Mountain-Bike Tribe by the bell they ring, warning others of their arrival.  These elders will typically be moving slower around corners and flash hand signs to signal how many Tribe members they are watching over.  Pay attention to these signs so you know how many times you should expect to dodge, or better yet, just stay to the side of the trail until all the younger members have also passed by!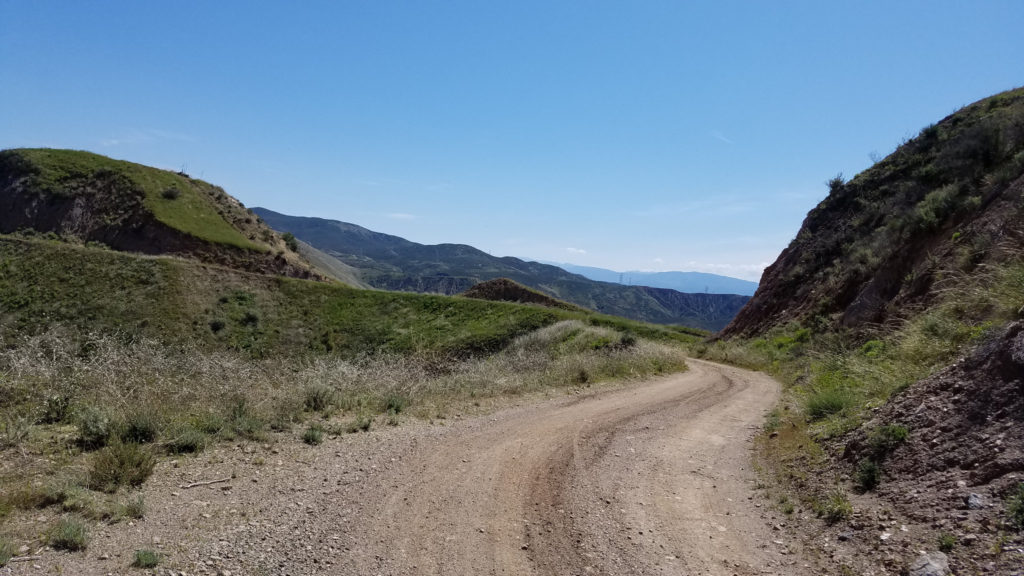 Leaving the Half-Marathon loop behind and striking out on the Ultra section, I found myself mostly on dirt Fire Roads.
The benefit here was that I could pick up my pace a little bit since I didn't have to check my phone for navigation quite so much!  The downside is that I was up on a ridge with no shade for about 20+ miles!  The views were still incredible though, and I wasn't ever bored, which was surprising to me since I had opted to run the entire 50k without using my headphones.  Normally I'll listen to music or podcasts while I run, but not this time.  To be fair, I usually don't use headphones while running trails since I want to be fully aware of any possible wildlife.  However, there was another reason I chose not to use them today.  I was already taxing my phones battery with the constant tracking of my location on Google Maps AND sending my location thru Live Track.  I was going to need some battery left at the end of my run to navigate the turns leading back to my car once I rejoined the single track for the final mile, so limiting the power drain as much as I could made sense.  Instead, I found myself with random song loops stuck in my head.
"Oh, I wish I were an Oscar Meyer Weiner"
"Mama's little baby loves shortnin', shortnin', Mama's little baby loves shortnin' bread"
took turns bouncing around my cranium.  Don't ask me why, I couldn't tell you!  I don't think I've ever really actually listened to the shortnin' bread song and I now find myself questioning if it's racist or not, and the Oscar Meyer jingle is just one of those ear-worms you can never fully get rid of!  Maybe my brain was short-circuiting?  More than likely it was simply searching for something to pass the time with, much like a little kid on a long road trip.
Fully subscribing to the theory that no matter what the distance, your body will start to think it has nothing left to give when you have completed about 70%, I decided to try a new strategy.  Normally when I run I have my Garmin Forerunner watch set to show my total distance and pace (both current and average).  That way I can judge my speed and know how far I've gone as well as how much further I need to go.  This time, however, I decided to switch things up a bit.  I set my watch to only tell me how much time had elapsed.  I've read how some runners trick themselves into thinking they are running a longer race than what they really are in order to hit that 70% distance mentally at the finish line, so I was toying with not knowing the distance at all!  I've also learned that running trails is much different than roads.  Road running allows you to regulate a pace since the terrain is much more predictable and constant.  Trail running, however, has constantly changing footing.  Instead of running a constant pace, you need to run what is 'comfortable'.  What that translates into for me is walking when going uphill and running when it flattens out or goes downhill.  It also means that my pace is dictated by feel instead of time.  As a general rule, if it feels like work I'm probably going too fast and need to slow down and relax.  Now, if I was only running a Half-Marathon or less I'd push the pace more!  But since this was going to be a long slog that I expected to take between 8-10 hours to complete, it made much more sense to make it a comfortable cruise.
That's not to say this was all comfortable, but I was pleasantly surprised to find that I never felt overly fatigued!  Around mile 15.5 I reached a fork in the road and the first 'there-and-back' of the 50k loop.  This was a 1 mile, 500+ foot descent down from the ridge line to the main road below where I then had to turn around and climb right back up.  The way down felt pretty steep at times and I had to laugh to myself, knowing that the longer this descent lasted the longer the climb was going to be!  Why was I laughing, you might ask?  Well, on the one hand it beats crying about it, but more importantly, I've found that there is real power in laughter and smiling while in pain or discomfort.  More than once during that 50k Fire Road section I found myself physically forcing myself to smile and chuckle while asking myself out-loud 'what have you gotten yourself into?'  Reaching the end of the descent I was surprised to find that the climb back up felt better to me than the descent had.  Maybe because I had thought it would feel much worse, but more likely because of all the hill-climb repeats I'd been doing recently.  Climbing up hills has become more comfortable to me than going down.  With an eye toward my Ultra at Big Bear coming up Mid May (hopefully), this was very encouraging to discover.
(NOTE: Again, Big Bear has been postponed to a date TBD)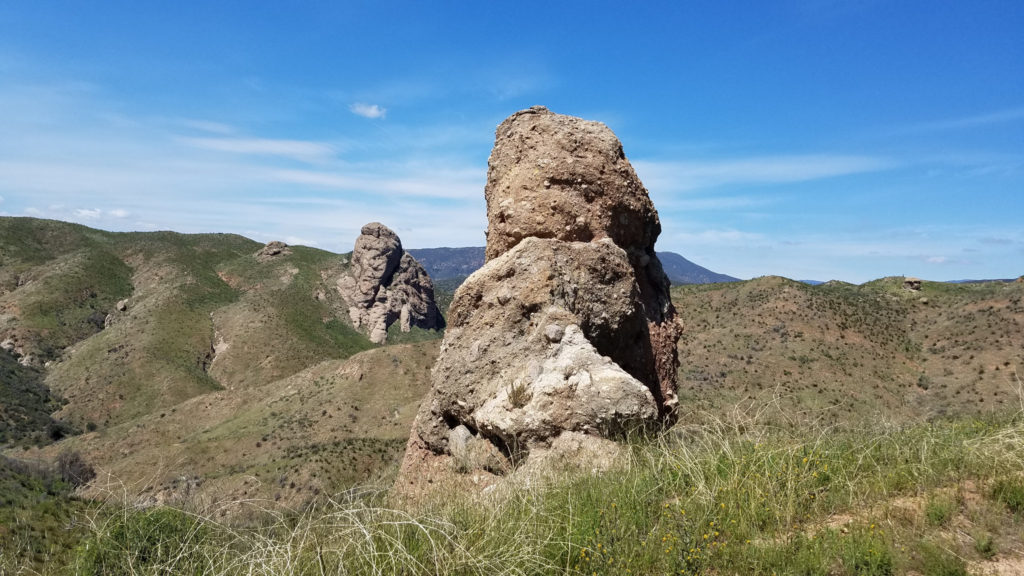 Reaching the fork in the road again and continuing on I found the climb just kept going.  I was doing more climbing than descending over the next 4 miles, which did begin to wear on me.  Mentally it feels better to go downhill than up I guess, but I eventually started my descent and reached mile 22 where the dirt road joined a paved one and led to the second 'there-and-back' section.
The pavement was an un-welcomed addition to the course.
It was during this 2 mile section (about 1 mile out and 1 mile back) that I noticed my feet aching a bit.  The pavement also reflects heat back more than dirt does, plus it just isn't as interesting.  I was very glad to finish that section and return to the dirt.  Also, I was now fully aware that I had reached the furthest point out on the course and was now on my way back to my car!  Even though I was still about 7-8 miles away, the thought of being on the 'final stretch' made every step feel like my load was being lightened.  Then I realized that my load WAS being lightened, very literally, since I my hydration pack was completely empty.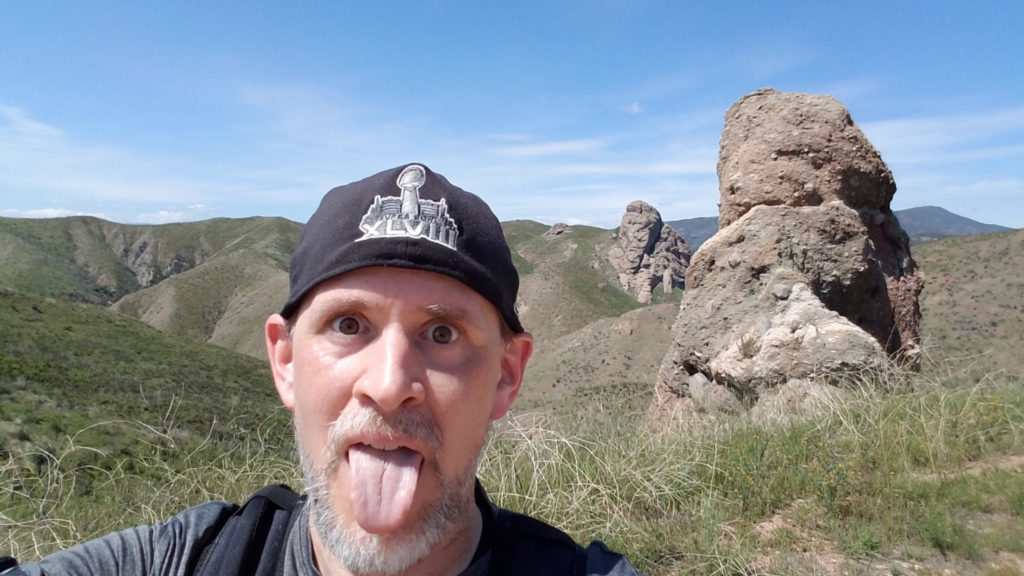 Without aid stations, I was going to need to cover the last 7ish miles with zero water.
Because of this I decided not to take any more GU Gels or Stinger Waffles since they always make my mouth dry.  Salt Tabs were out of the question as well for the same reason.  Knowing that I wasn't going to die, I just kept moving, reminding myself that by doing so I was constantly getting closer to achieving my milestone of completing a 50k, earning my right to consider myself a Baby Ultra Runner.  Also, moving at a constant pace would bring me to water quicker than stopping and resting, so I continued on.
The last miles were fairly uneventful.  I came across one Mountain-Biker and about the only other runner I'd seen all day.
(I did see several Mountain-Bike-Doctors earlier.  I knew they were Doctors because they had the medical masks on.)
I made a point of celebrating when I passed the fork in the road that led down to the first 'there-and-back', and also when I rejoined the backside of the Half-Marathon loop.  Then again as I rejoined the 10k loop, where I took a few moments to sit down on the concrete footing of a power-tower.  I took this time to text my wife that my phone was about to die, but that I was fine and would text again when I reached my car and could plug in.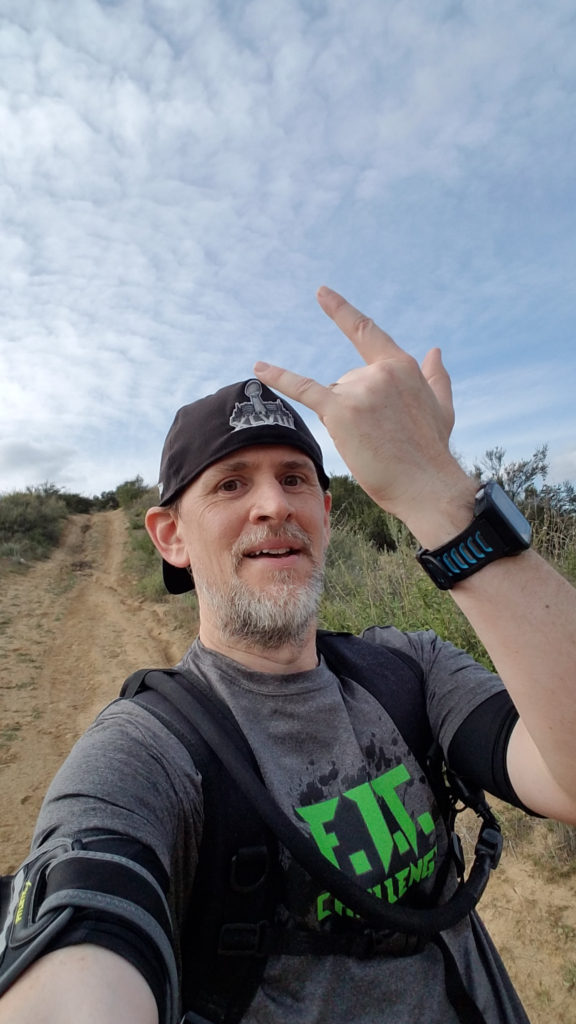 I had 12% battery left to guide me through the final turns to my final 500 ft descent, and 8% left when I finally reached the trails end.  Because of my early navigational errors, I had extended my 31 mile run to 32 miles, but I was happy to find that even though I was tired, my legs and feet did NOT feel exhausted!  I felt like I had more miles in me, but very little desire to find out.
I had achieved my goal DESPITE covid-19 shutting everything down, and despite my bowels.  I learned that packing some adult wipes is a trail necessity and will probably cut down on glove liner costs.
The 32 miles took me just over 9 hours to complete and I'm very happy with my overall pace of 16:52 min/mile, especially when I consider that includes my pauses to navigate and 'explore' the bushes.  I'll be doing this run AGAIN at the end of May when I run in the official Valencia Trail Race 50k, and I'll be very interested to see what difference other runners, trail markings, and aid stations can make!
For competing in the F.I.T. Virtual Challenge I got a Finisher's Medal, Event Shirt, F.I.T. Pin, F.I.T. Sticker, F.I.T. Temporary Tattoo, and Event Bib, which I DID WEAR pinned to my shorts.  I think it's funny to imagine what the few people I came across must have thought about that!  Where were the other people in my event?  Was I lost?  Or, quite possibly, no one cared!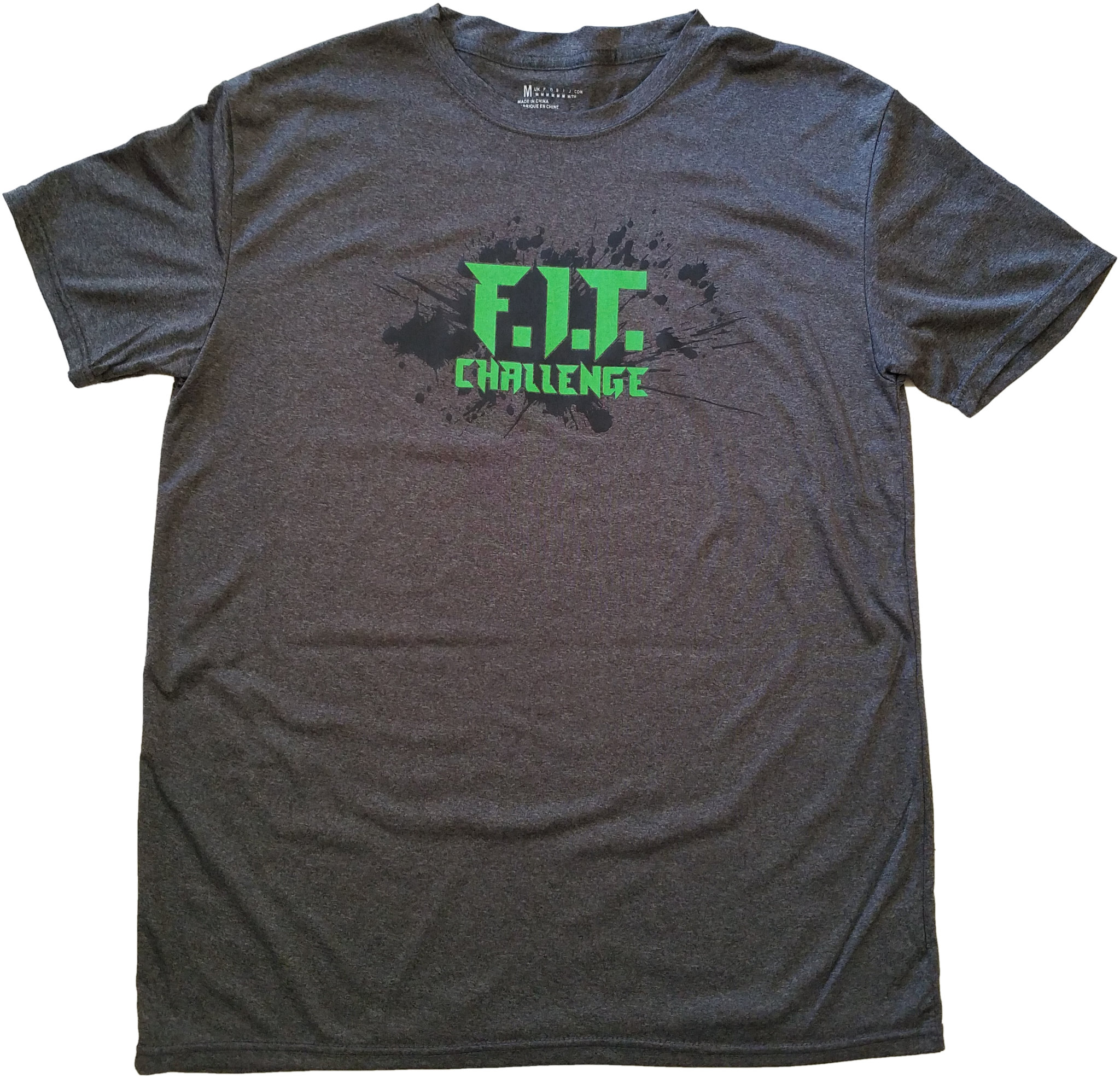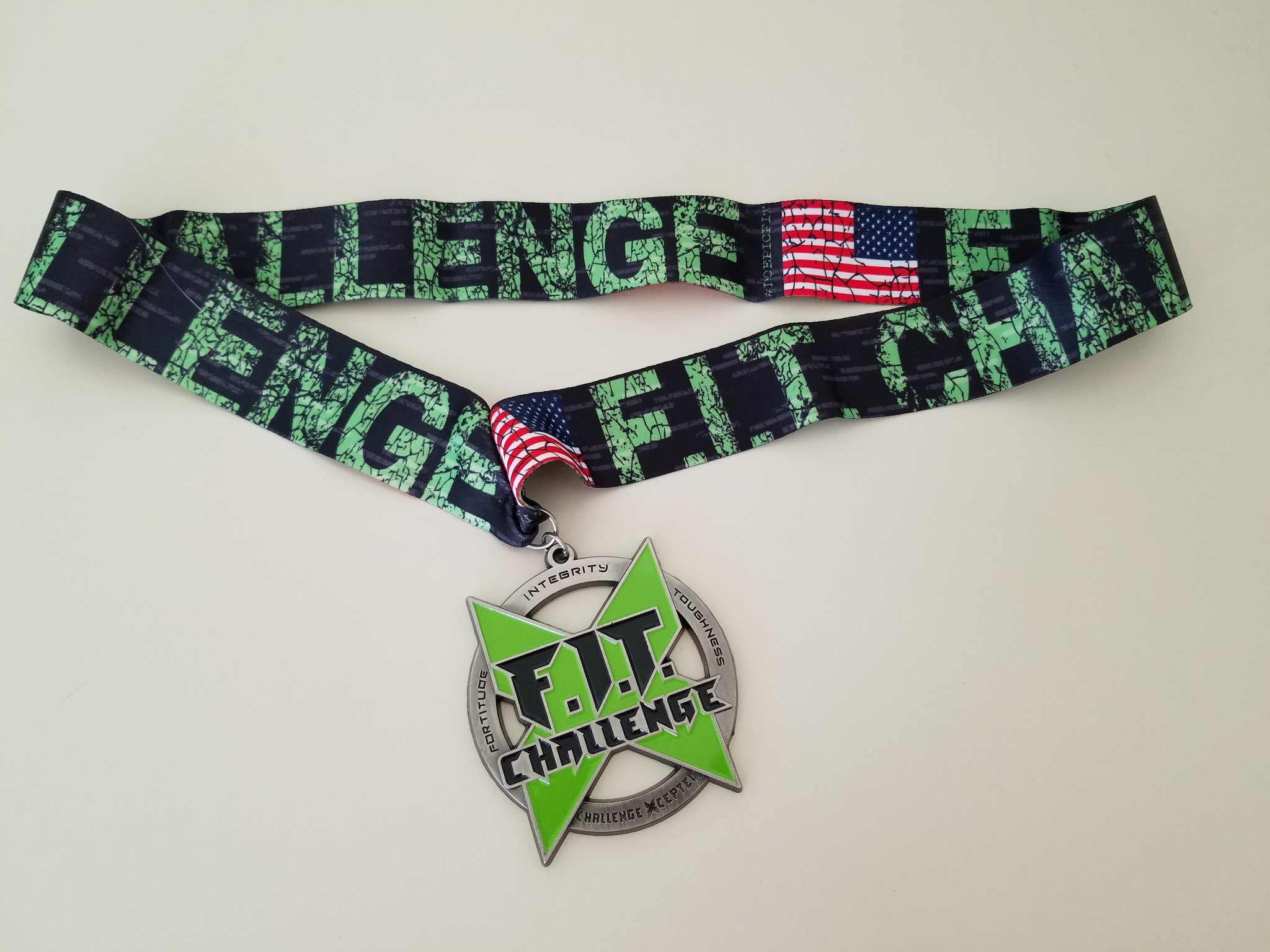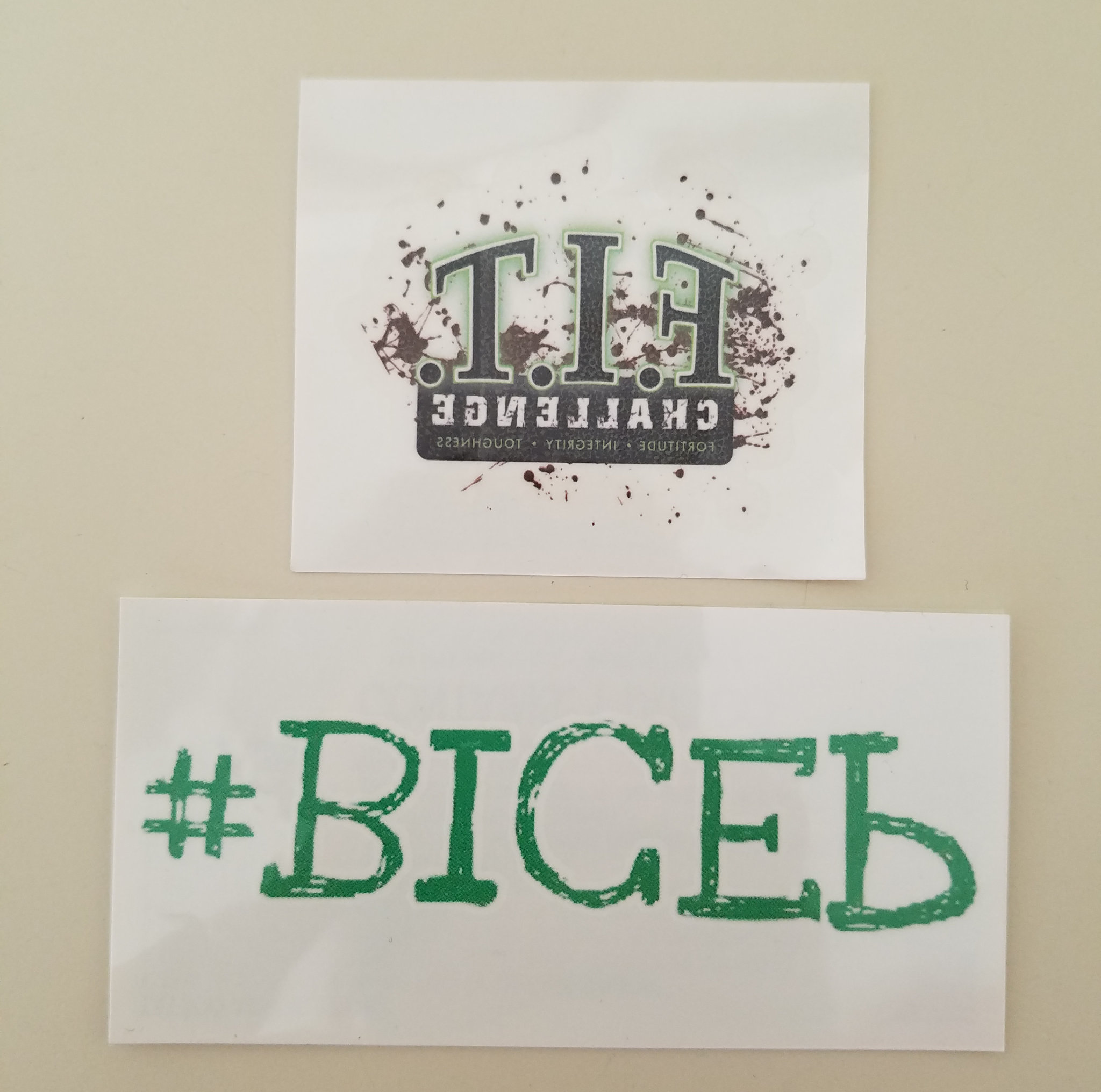 FITVRChallengeVTR50K_Shirt_Finisher_2020_Front
FITVRChallengeVTR50K_Medal_Finisher_2020_Front
FITVRChallengeVTR50K_Medal_Finisher_2020_Front_CU
FITVRChallengeVTR50K_Button_2020
FITVRChallengeVTR50K_StickerAndTatoo_2020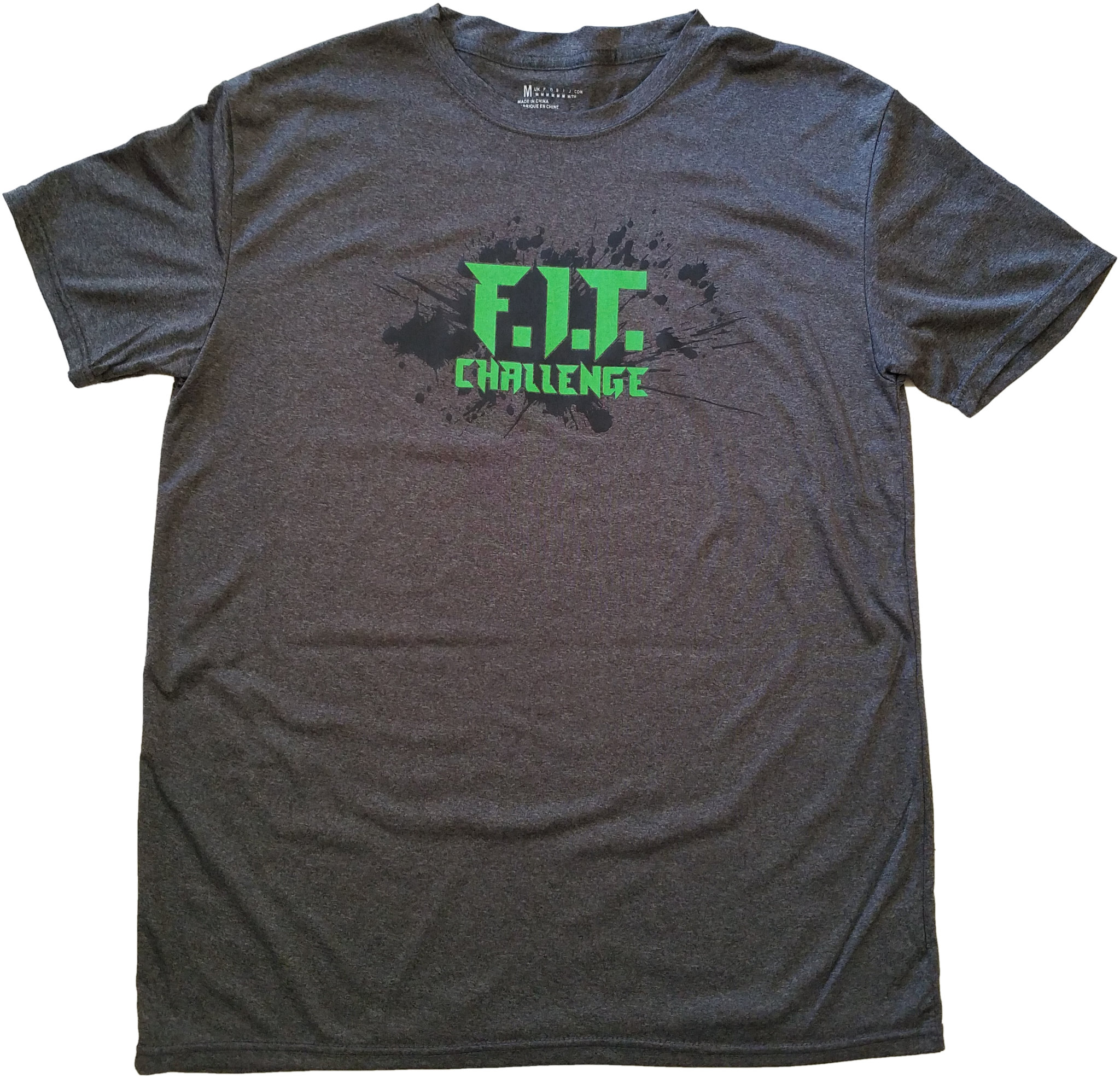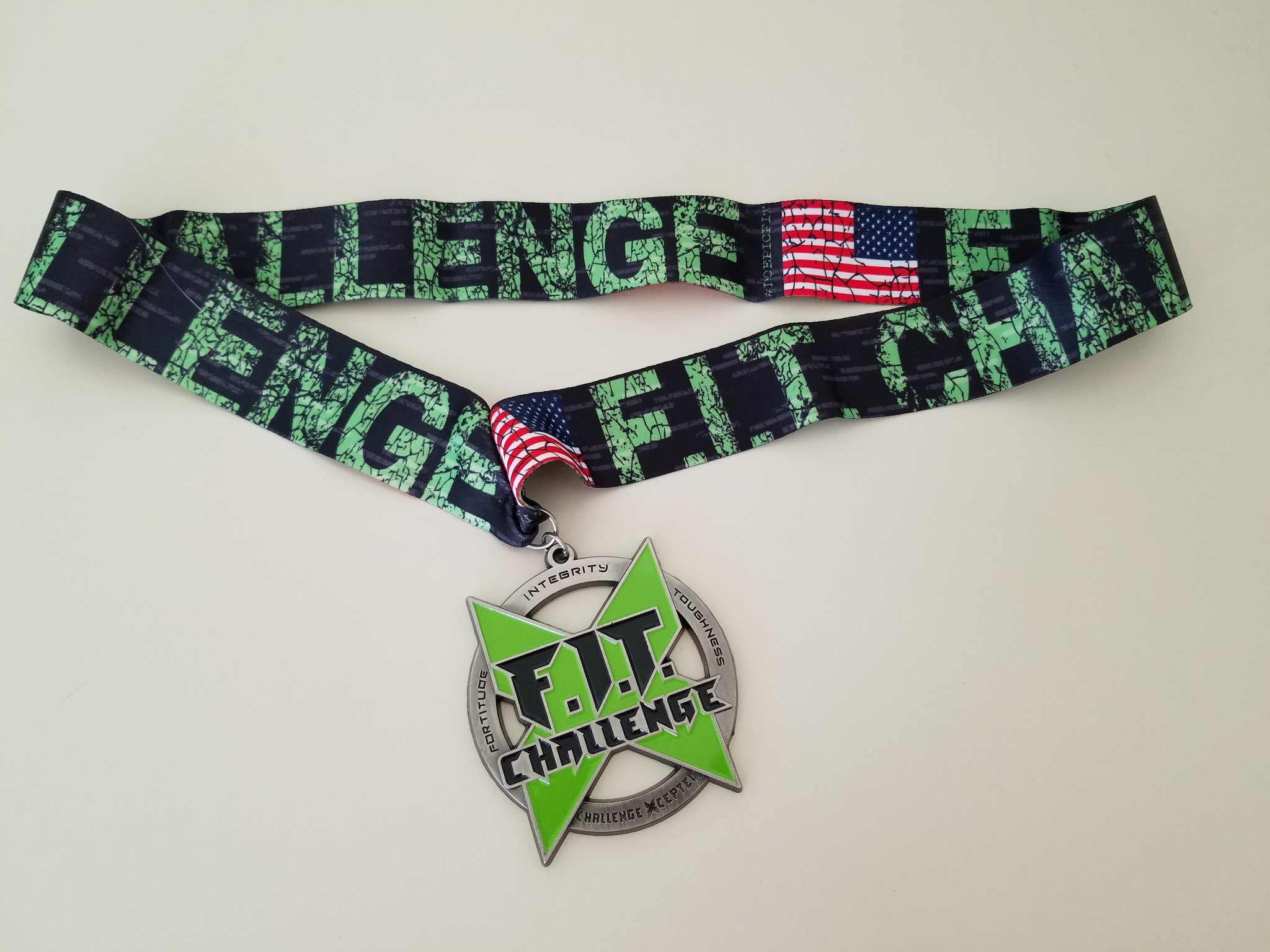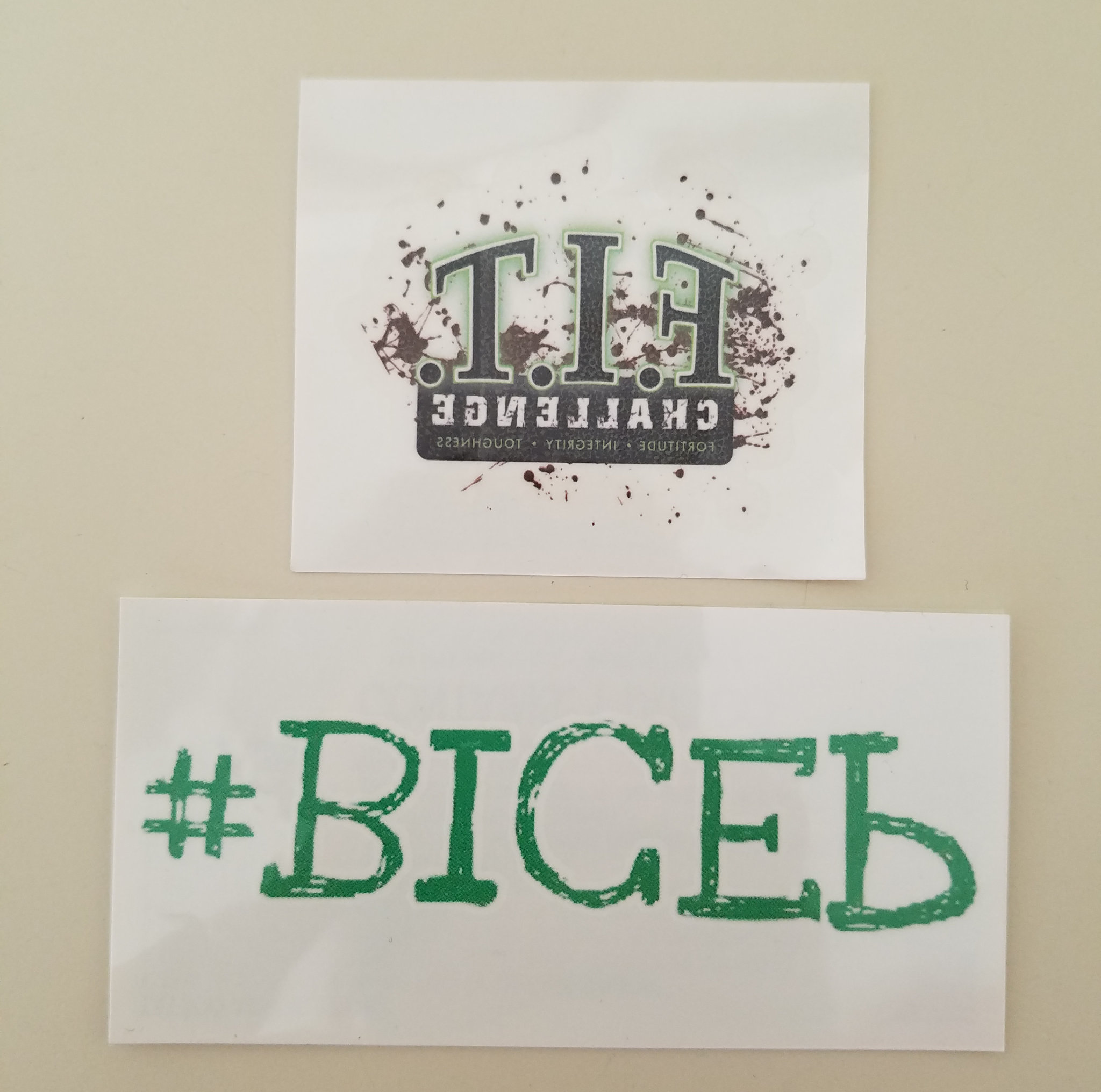 If you like what you've been reading on my blog, please subscribe to it below.  I PROMISE that the only thing that will happen is you will get an email letting you know when I put up a new post with a handy-little-link directly to it.  Subscribing lets me know that people are reading and enjoying what I'm writing.  Don't get me wrong!  I'm going to write this whether you enjoy it or not!  🙂
Subscribe Via Email to be notified of new posts!