O.C. Marathon, 2019
If you're thinking about running a Marathon, there are certain things you are going to have to come to grips with:
A.  Marathons tend to start very early in the morning.
B.  You will need to arrive at the event about 1.5 hours before the start time.
C.  Unless the Marathon is in your city you will probably need to drive a ways to get to the event.
D.  You'll probably only have a few short hours to sleep the night before due to the time you need to leave your house.
E.  Forget about 'D'. . .you're not going to be able to sleep during those few hours anyway for fear you will oversleep and miss your event!
Having now run an extensive number of Marathons (2 in total, but they were really long), I have first hand experience with the above list.  For example, take my experience with the 15th annual O.C. Marathon (O.C. stands for Orange County here, and not Obstacle Course, as it does in AverageOCRunner).  When I signed up for the O.C. Marathon I hadn't been thinking about the early start time and the distance the event was from my house.  Which is strange since I have run this event for the past two years!  In my defense, as shaky as it may be, I'd only run the O.C. Half-Marathon in the past, which had a start time of 6:15am.  Now, 6:15am is PLENTY early, and would translate into me needing to leave my house by about 3:15am.  However, the Marathon has a start time of 5:30am.  Now, that's only 45 minutes earlier than the Half, but you also need to factor in that you have to park at the finish line, then grab a shuttle bus at an assigned time-slot that takes you to the starting line.  My shuttle left at 3:55am.  With the drive from my house to the finish line being around 1 hour and 15 minutes, and knowing I needed to allow for minor traffic hiccups and possible early road closures, I decided I needed to leave my house at 2am.  Of course, this meant I'd need to wake up at 1:30am in order to shower, get dressed, and give my gear one last check-over before heading out the door.  I at least packed everything up and fixed my breakfast the night before so that I could comfortably get to bed by 10pm!  Nothing like settling in for a good, solid 3.5 hours of tossing and turning while checking your watch every 5 – 10 minutes to make sure you haven't overslept your alarm.  By the time 1:30am rolled around, I was relieved to get out of bed.  Sometimes the stress of waiting for an event to begin feels worse to me than the actual event itself!
I got to the Costa Mesa Fairgrounds around 3:15am and spent the next 15 minutes trying to figure out how to get into the parking lot.  I started by using the official turn by turn directions I was supposed to be following and found that it led to a gate that was blocked off by traffic cones.  I continued around the Fairgrounds finding entrance after entrance blocked in a similar manner.  I could SEE the buses I was supposed to be boarding in the parking lot but was having a very difficult time figuring out how to reach them.
Right before I was about to see just how well my Honda Civic could handle a curb and shrubs,
I saw the entrance I was passing was NOT blocked off if you came from the OTHER direction!  Of course I had to go about a mile out of my way before I could LEGALLY turn around.  All of this is a very FINE example of why you need to allow yourself EXTRA time to reach your event.
Once parked, I had about 15-20 minutes to spare.  Just enough time to eat my breakfast, change into my running shoes, grab my gear, and get onto one of the waiting buses.  The ride to the start line isn't NEARLY as long as the one for the L.A. Marathon.  This is because the finish line is at the halfway point of the Marathon course.  That allows the Half-Marathon runners to follow the same course as the Full up until mile 12 where they will turn into their final stretch ending in the Fairgrounds and the Full course runners will continue past the Fairgrounds deeper into the city and return much later.  Hopefully.
Up until I got onto the shuttle bus it hadn't really sunk in that I was about to run 26.2 miles again.  It had only been just over a month since I did my very first Marathon, and I had only gotten in one 20 mile run between the two.  I'd been mainly doing steep hikes in preparation for the Spartan Beast at Big Bear, which would be only 13 days after this race!  So I was basically using the O.C. Marathon as a training day toward Big Bear!  But now, pulling up to the drop-off site a block away from the starting line at about 4:15am it was finally sinking in.  I was in for a long day.  I was finally going to see what the second half of this course looked like, and it was probably going to hurt!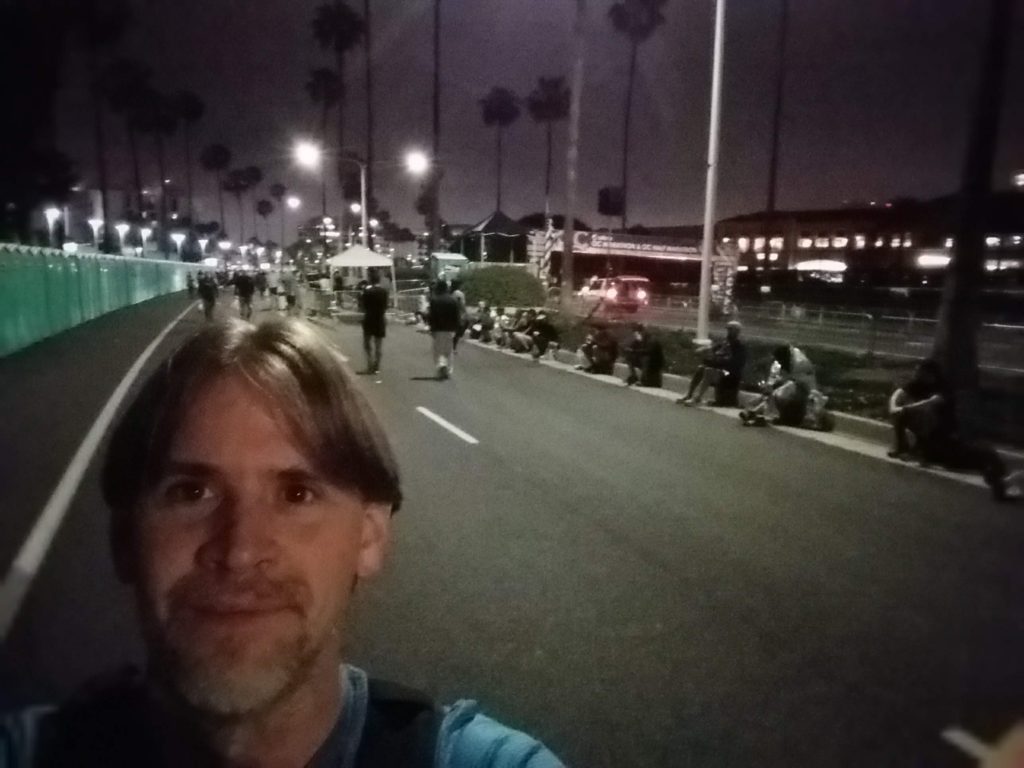 Right off the bat this Marathon felt different than L.A.  For starters, there were only around 2,000 runners instead of 20,000+!  The starting line was very quite and somber feeling vs. the live band and party feeling that existed at Dodger Stadium.  The weather was perfect though, and I decided to go to the gear drop-off site immediately since I had no need for my pull-over and wanted to take care of that before more buses showed up and things got more crowded.  After I dropped off my gear, I visited the port-a-potties and MAN was that awesome!  I DEFINITELY recommend being on one of the first shuttle buses because the port-a-potties were SPOTLESS!  There is NOTHING like being the first one to use it!  I never thought I would enjoy a Port-a-potty, but after so many venues with filthy ones, seeing one so clean and unused felt like nothing short of a hallowed experience!  THEY CAN BE CLEAN!
By the time 5:30 rolled around and we had heard the National Anthem sung, we were allowed to start running.  There were no assigned corals at all, so I was across the starting line soon after the official start.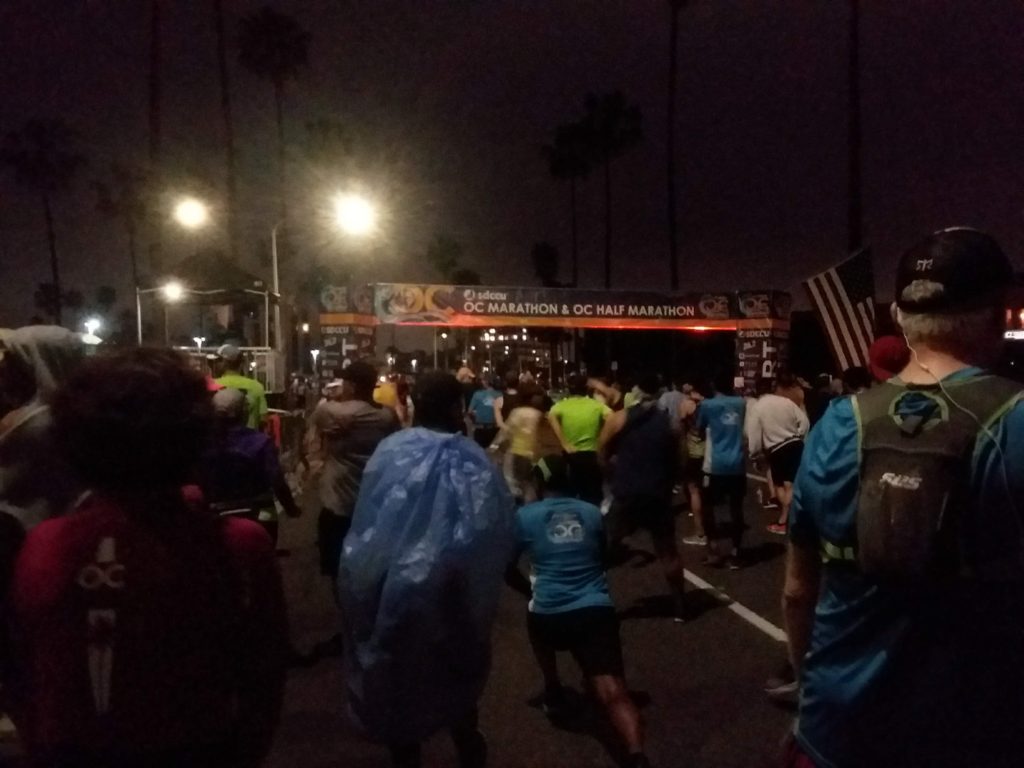 Since this was my third year running this event I was very familiar with the first 12 miles and I got to say, it's still one of my favorite courses!  You start out near the ocean and have several picturesque viewpoints to distract you.  In the first few miles you have a few short climbs, but most of the time it's more downhill than up.  Around mile 3 we were heading toward the ocean and I decided to try and take a picture while running.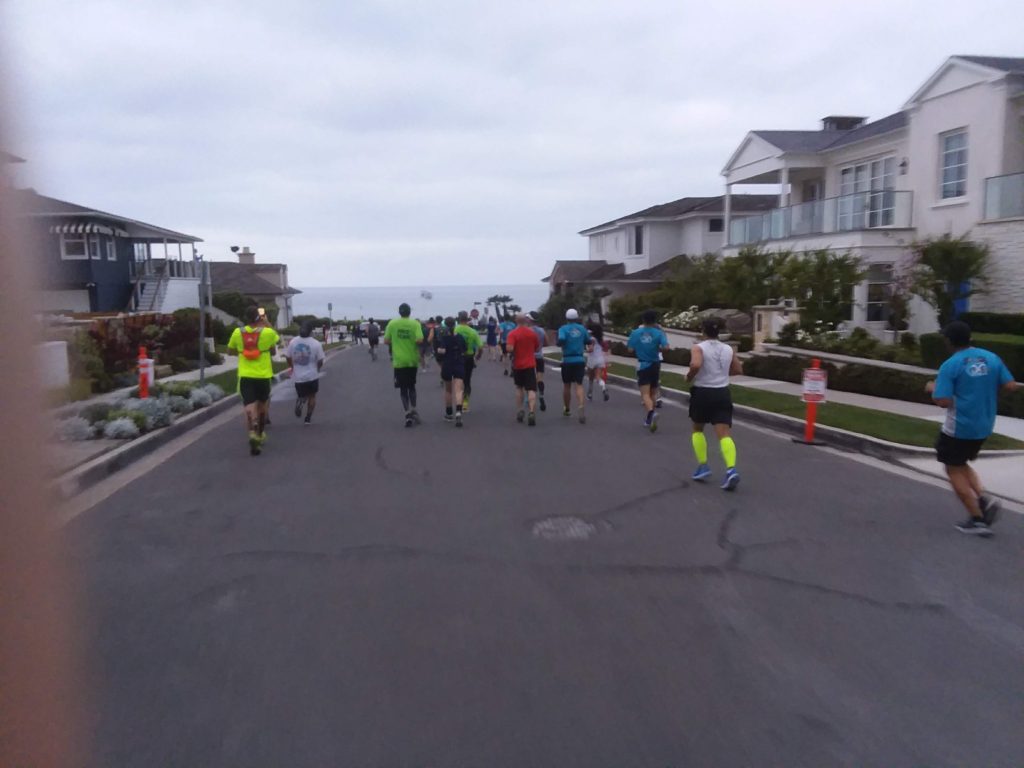 The shot doesn't do justice to how amazing the view really is.  I decided that I would take a few photos every mile or two in order to give more context to my review!
After trying to take a quick selfie and almost dropping my phone while fumbling around to put it back in my armband while running, I abandoned that resolve.  The thought of getting my phone trampled because I was taking a selfie IS funny to me, but I opted on the side of caution.
I'll have to figure out a better way of taking pictures in the future.  The selfie didn't even turn out!
The first 7 miles were very nice. 
There were a few hills to climb, but they were short and far between.  Mostly, that first part of the course is made up of slight downhill grades and flat stretches.  Enjoy it while you can, because starting with mile 7 you will cross under the freeway and begin paying for those downhills with your first prolonged climb.  It's an uphill section that stretches for just shy of a mile, but finishes off with one of the most beautiful views on the entire course.  The Coastal Bluffs!  You traverse your way thru a park with many views out over the bay with the city skyline in the distance.  This is my favorite part of the race.  Leaving the park, you get to run thru a residential area with boat docks that has a quaint feel to it.  So many things to look at during these early miles!
9.5 miles into the course I heard
someone yelling for all runners to move to the right-hand side of the course.  It was a guy on a bicycle wearing a 'race-official' jacket.  Shortly after he peddled past a blur of a runner blew by me like I was standing still!  It was the lead Elite Male Half-Marathon runner!  Even with a 45 minute head start I couldn't go 10 miles faster than him!  It was another minute or two before the second, third, and fourth place runners came thru.  Those guys are NOT human!
I had been dreading the final major hill climb of the first half.  Mainly because it has been my soul-crusher in previous years!
It comes around mile 11 and is a
long winding turn with a steady incline that seems to never end.  However, I was pleasantly surprised this year to find that the hill had gotten flatter!  It wasn't nearly as daunting as I had remembered it being in the past, and before I could really register I was going up, I was at the top and cruising along, feeling like the worst of the course was behind me!  Never mind the fact that I was not even halfway done with my run yet!  At this point I was maintaining a very comfortable sub-10 minute mile pace and feeling great!
11.33 miles in another 'official'
came riding by and was followed by the lead Elite Female Half-Marathon runner.  Being able to witness athletes run at the Elite level is truly something to see.  Especially when you are also running, have had a head start, know how you feel at your pace, and then get blown away.  Very impressive.  I bet their greatest challenge to maintaining that pace is weaving thru us slow-pokes!
It was at mile 12 where I said
'goodbye' to the course I had come to love and began my trek into the unknown.  All the Half-Marathoners turned toward the Fairgrounds and began to smile knowing they were almost done, while all of us suckers began our descent into the city where we would be surrounded by concrete for another 14.2 miles!  If it sounds like I didn't like the second half of this course, that's only because I didn't.  Now, please do not get me wrong, I am very glad I ran the full course!  But the sights you see in the second half of the O.C. Marathon in NO WAY match up to the ones you get in the first half!  You trade out ocean views for freeways, buildings, and. . .well, we will get to that!
There wasn't a whole lot to look at during the second half.
But one of the high points came at mile 17.
There was a long stretch of road leading up to the mile 17 marker, at which point someone had decided to make the road climb straight up into the air for about 20 feet.  Or so it seemed.  It was probably a bridge over another road or something, but it looked like a concrete wall painted to look like a road as I approached it.  Up until this point I had maintained a fairly constant pace.  By mile 14 I was still hovering at a 10 minute mile.  Now I had slipped a little bit but was still turning out a pace of 10:47.  However, this road-wall was the first time I broke pace and decided I would walk to the peak.  Knowing that I still had 9.2 miles to go I didn't want to completely blow up my legs just yet!  My pace for that mile dropped significantly to 12:55, but then I was able to pick it back up for the next few miles hovering around a 12 minute pace.  I felt a significant improvement over my performance from the L.A. Marathon and was very happy with how things were going.
Until mile 21 when we descended
into the AQUA-DUCT and the 'beautiful view' was too much to handle.  The wheels fell right off.  Walking along the concrete in a straight line with nothing but the 'glorious view' of the AQUA-DUCT gave me plenty of time to listen to the screams of my legs and feet.  I started having serious arguments in my head about whether or not I belonged on this course with the other runners.  By the way, this is NOT an exaggeration.  If you have never run a Marathon and are thinking of doing so, be aware that at SOME POINT in your race you will become your own worst enemy.  Unless you are one of those Elite runners, then you will probably be wondering why everyone else isn't as awesome as you are?  I am not an Elite runner, as I have very clearly found out.  I devolve into self arguments.  In the case of the O.C. Marathon, I spent miles 21 and 22 berating myself for thinking I was a Marathoner, when clearly I wasn't.  If I was a Marathoner, why was I walking when other people were clearly still running?  I didn't belong in the same event as them!  My feet hurt and my muscles all felt like they wanted to drop off my bones in protest of the conditions I was subjecting them too!  A few times I attempted to start running again only to have my quads and calves instantly tighten so hard that I felt they could rip in half.  I even stopped to try and stretch once which led to me almost falling over like a drunken sailor!  Desperately trying not to SOUND Like a drunken sailor, I berated myself for stopping and forced myself to simply continue to move closer to the finish line.
By mile 23 I was pulling myself out
of my slump by digging into my interval training.  I was forcing myself to run / jog / move quicker for 2 to 5 light posts and allowing myself to walk for only 1.  That way I was able to recover from the 17 minute mile pace I'd been trudging thru and get back to something closer to 12:30.  That lasted for only a couple miles.
By mile 25 I was back to arguing
with my inner voice and had dropped back to a pace of 16:50.  Although my inner voice brought up a few very valid sounding points about my inadequacies as a runner, and I'm fairly certain he was about to launch into a chunk about other aspects of my life when another voice in my head decided to chirp up and remind me that I was still at a faster overall pace than L.A. and still had a chance at a P.R., if I could knock off the pity party long enough to actually get moving.  This new voice presented me to 2 choices, I could continue to wallow in self pity and my dwell on my pain, OR I could stop whining about it, push thru, and make a decent attempt at a P.R. to show for my suffering.  I decided that since I was already out there and only 1.2 miles away from the finish, I might as well go for broke and see if my legs held together.  By no means did I get much faster, but I did manage to pick up my pace to a 15:54.
I could hear the music of the finish line festival long before I could see the live band that was playing.  It helped pull me toward what I knew would be the end of a very long run!  Just when I felt I was going to have to switch back to walking I noticed that I was in the parking lot at the Fairgrounds!  I kept moving toward the music.  One of the main differences between the O.C. and the L.A. Marathon is the lack of spectators cheering you on.  In the L.A. Marathon they line the route nearly the entire 26.2 miles.  In the O.C. Marathon you are on your own for the majority of the event.  There are small pockets of people along the way to cheer you on during the first half, but once you pass the 12 mile marker, you enter into a virtual no-mans land where it's just you and your suffering.  I tell you this in order to underscore the sheer impact a complete stranger can have on you if they are yelling encouragement while you are struggling.  Do not underestimate the influence you can have on those around you with a simple word of encouragement.  "You're almost there!", or "Great job!" can make all the difference.  I know it did for me.
As you approach the final turn
that will take you to the finish line, you pass thru the festival area between a live band belting out classic 80's rock tunes and a crowd of spectators screaming their encouragement.  Every muscle in my lower body had already filed multiple complaints with me and warned that they were on the verge of a walk-out, there just had to be better work conditions on another body, but the surge of the music and the words from the crowd helped me pick up my pace, just a little.  However, as I rounded the last turn and began my final push, my left hamstring decided enough was enough.  It knotted into a charlie horse.  I came to an abrupt stop.  With the finish line directly in front of me and a crowd of spectators to my right, my left leg refused to move.  Someone shouted,
"Don't stop until AFTER the finish line!"
Ok, not ALL things are encouraging!  I looked up and saw the official race clock.  I still had time to get a P.R!  All I had to do was cover another 100 yards!  On a hunch, I tried locking my left knee and swinging my leg forward like a crutch.  It worked.  My hamstring was fine as long as I didn't BEND my leg!  So forward I hobbled as quickly as I could.  Run with my right leg, swing my left around stiff kneed.  I don't want to know how I looked because it was probably pretty ridiculous, but it was working, and it got me off the course with a new Personal Record to boot!  Since the field of runners was so spread out by this point, someone was announcing each runner as they approached the line.  Nice touch.  Oh, one thing I should mention to anyone who works as a volunteer at a Marathon and finds themselves handing out medals.  Please just reach your arms up and put the medal on the runner, don't hold it in a way that makes them have to bend over so you can slip it on at your waist level!  I met my medal handler half-way.  I started to bend over, then realized I'd have to touch my toes in order to get low enough and THAT doesn't happen on a good day, so I looked up and made eye-contact.  I think she saw that I was in no mood for games, so she lifted the medal the rest of the way and slipped it over my head.  I'm realizing as I write this that it would have been even simpler if I had simply grabbed the medal with my HANDS and put it on my own neck, which might be what they meant for me to do, but I wasn't exactly up for problem solving at the time!
An amazing thing happened after I finished.  All the pain I had been feeling in my feet and legs went away.  I was still sore, sure, but walking around no longer hurt.  I was able to walk thru the festival area, find the Legacy Lounge (for those of us who had run 3 or more years in a row at this event) and get the free meal they were providing.  I wasn't moving quick, but I wasn't in pain anymore.  I was happy to be done with my second Marathon, and very happy to have improved my time.  I hurt much more after the L.A. Marathon than I did after O.C., and my recovery time was also quicker.  I'd say that the O.C. is a much harder course than L.A. due to its lack of spectator support, however I plan on running both again next year!  Only one more Marathon planned for this year, and that's not until early November, so I have time to train up for hopefully yet another P.R.!  For now, I've only got a few short weeks before a race I'm very nervous about, the Spartan Beast at Big Bear!  Toughest event of the year!  After that, 5 more Spartans and my very first trip to the Space Rock Trail Run!  This year is going to be fun (and painful!)
For finishing the O.C. Marathon I earned a Race Shirt and a Finisher Medal.  I really like this shirt, it's a little hard to see the detail in this picture, but there's a texture print to it that gives it a 'pro-jersey' look.  Also, it has the word 'Marathon' on it so it's not the exact same shirt you get if you run the Half.  The Medal is 'ok'.  Not the most exciting design I've collected, and the simple square shape leaves something to be desired.  I do like that it has its own movable 'prop' stand, giving you the option to display it upright on a table.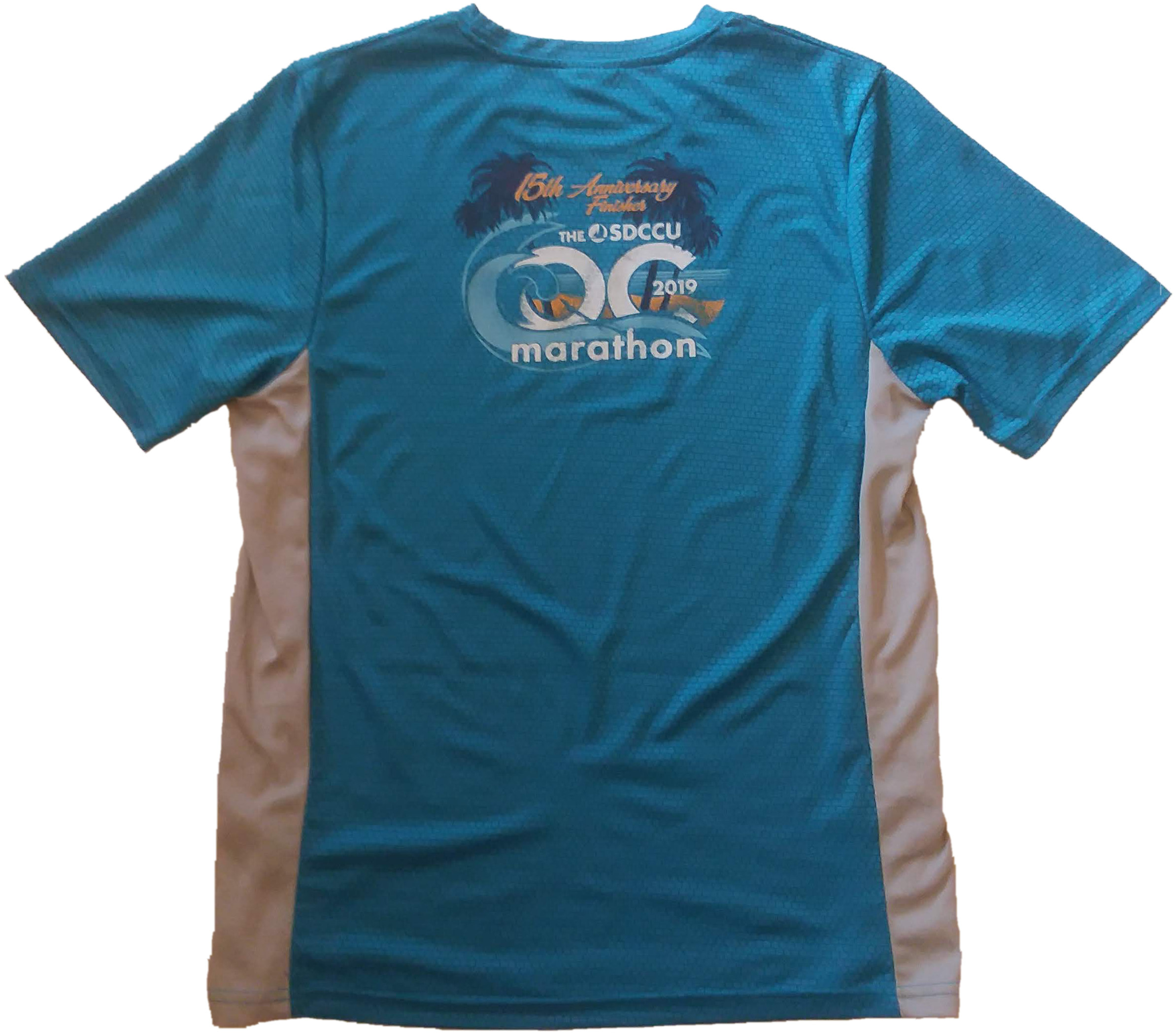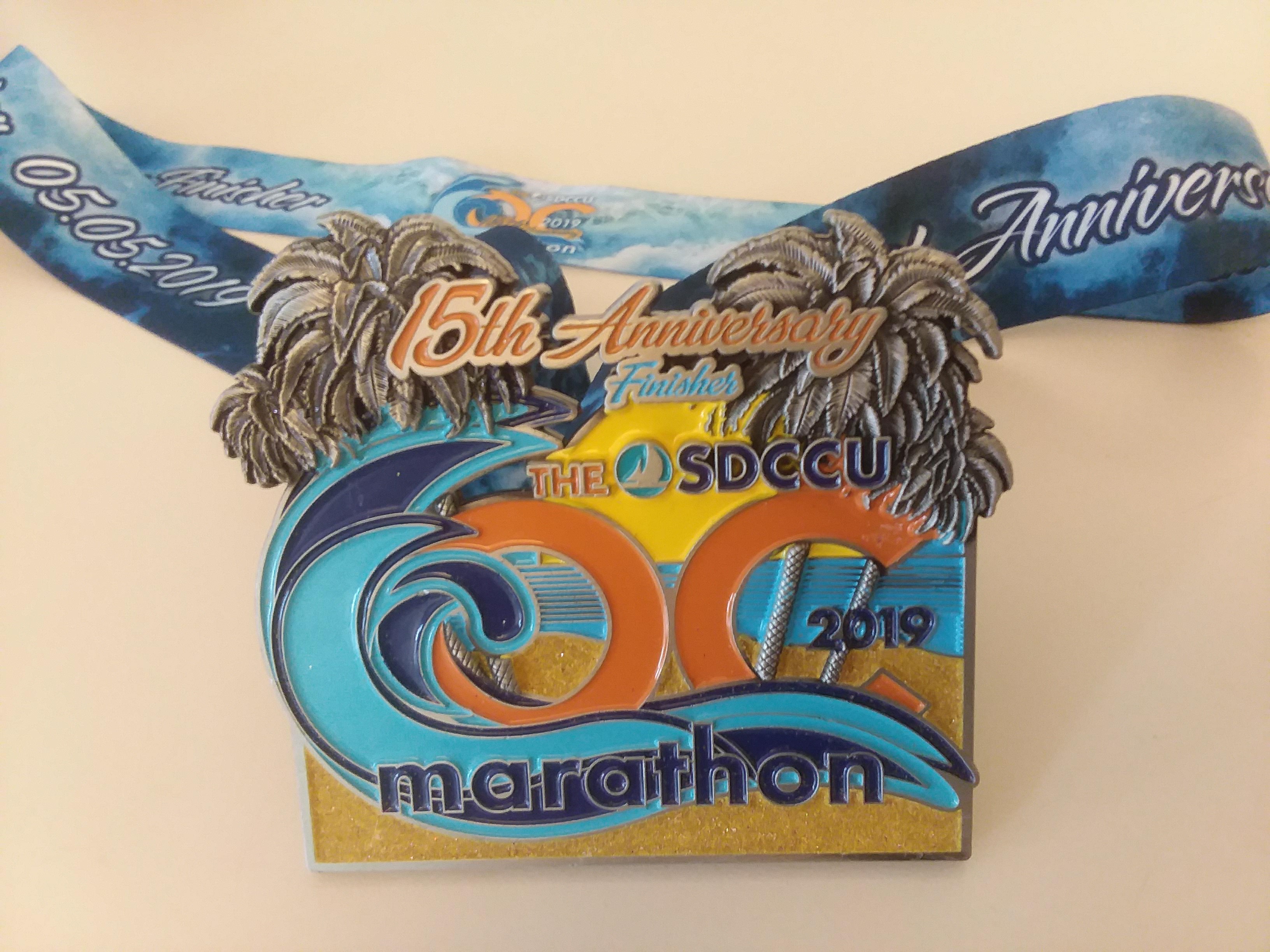 Marathon, 2019, O.C., Finishers Shirt, Front
Marathon, 2019, O.C., Finishers Shirt, Back
Marathon, 2019, O.C., Finishers Medal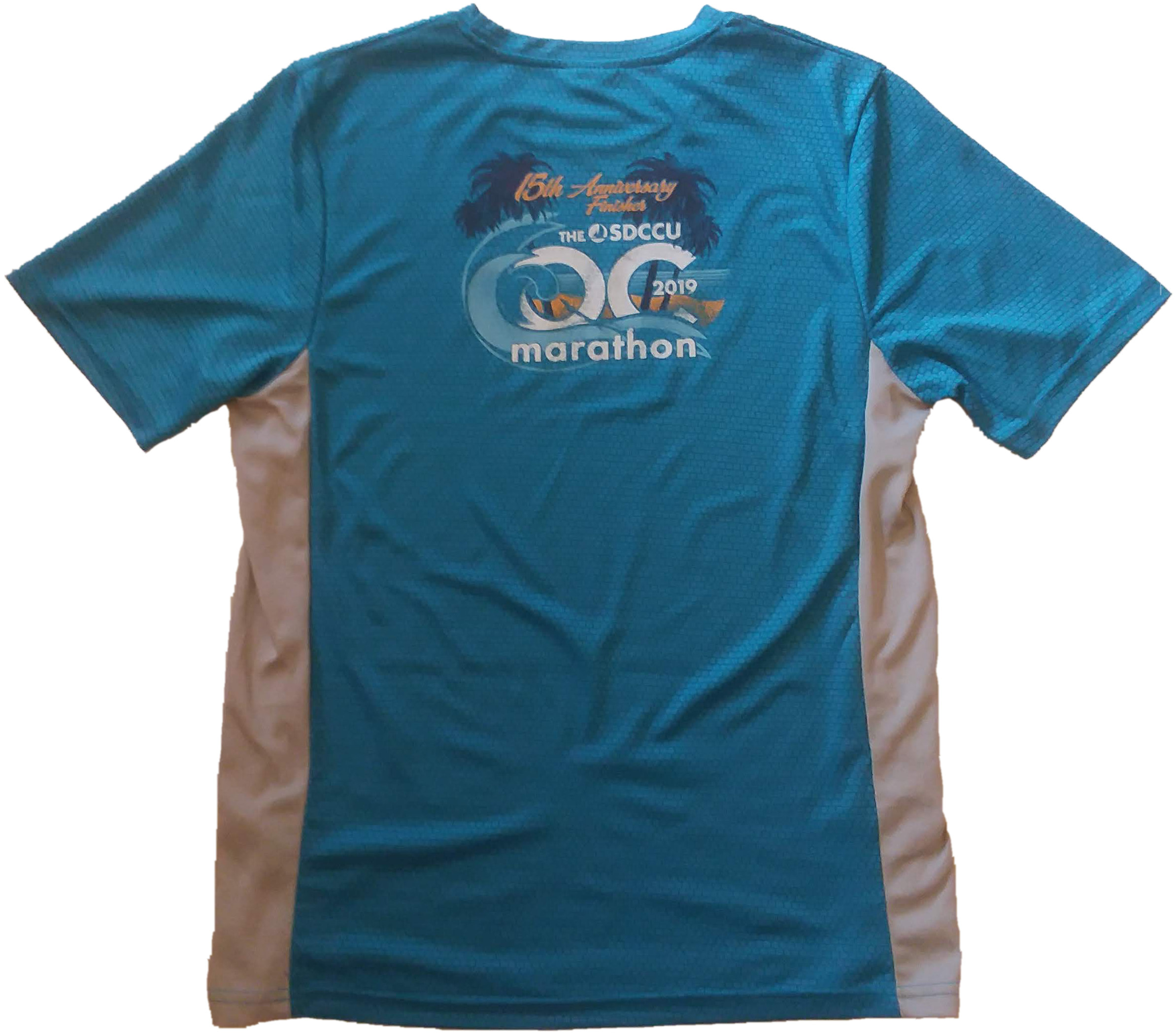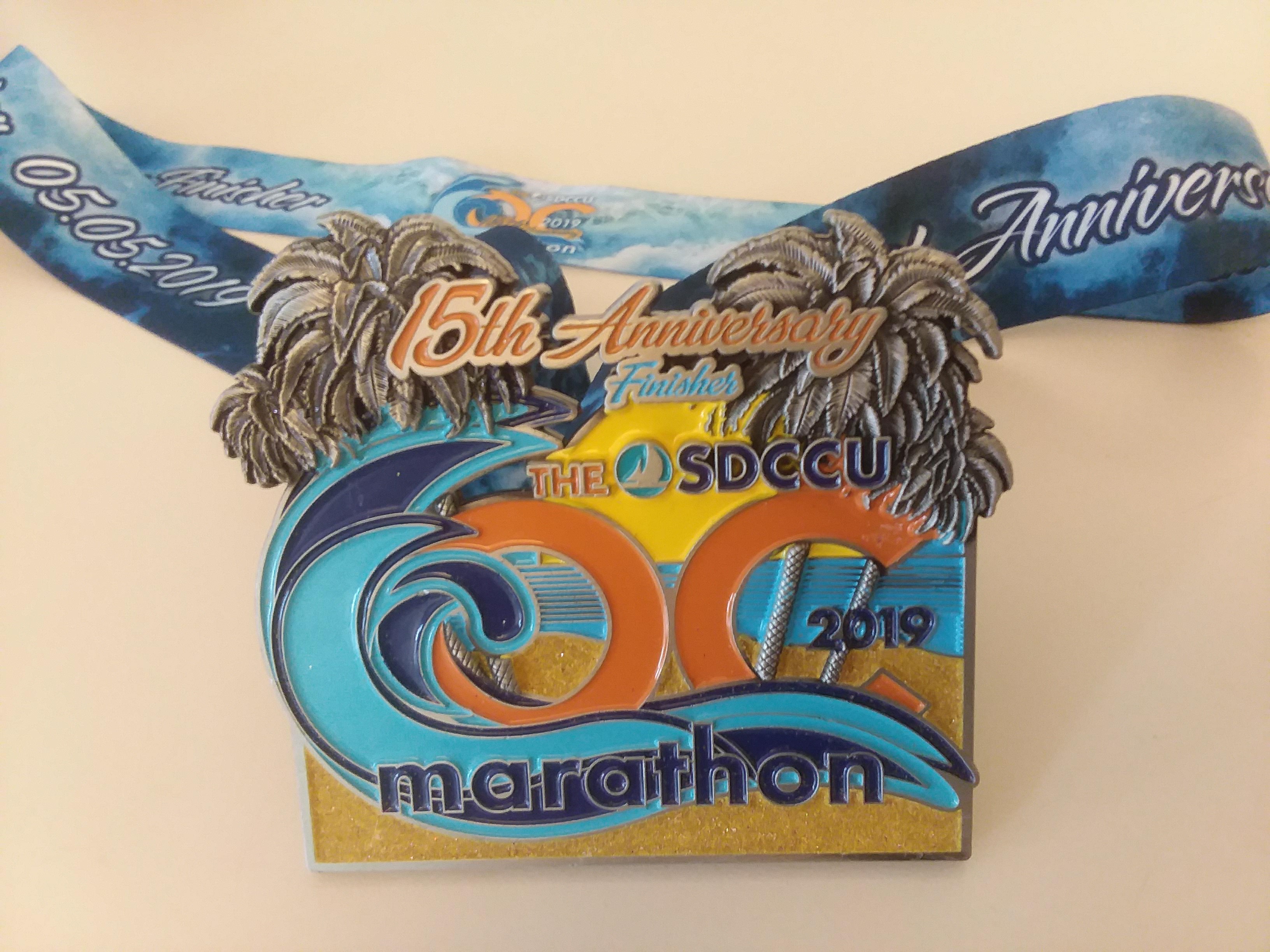 If you like what you've been reading on my blog, please subscribe to it below.  I PROMISE that the only thing that will happen is you will get an email letting you know when I put up a new post with a handy-little-link directly to it.  Subscribing lets me know that people are reading and enjoying what I'm writing.  Don't get me wrong!  I'm going to write this whether you enjoy it or not!  🙂
Subscribe Via Email to be notified of new posts!