Spartan Beast: Big Bear CA, 2019
The Beast at Big Bear has quickly gained the reputation of being one of the hardest courses during the regular Spartan season.  It's been called the 'Killington of the West', in reference to the Beast at Mt. Killington, Vermont, which has been thought of by many to be the most difficult.  Now, I've never run at Killington before, but the few people I've meet who have say that Big Bear is harder.  I wouldn't know, but someday I hope to visit Vermont to find out for myself.  For now, however, Big Bear is the hardest Beast course I know.  A course I refer to as:
This year marked my 3rd annual journey to Snow Summit at Big Bear, CA.  Being the 2nd year in a row that Spartan has made this a stop on their U.S. National Series, I expected a very difficult course.  I was NOT disappointed!  My 17-Year-Old-Son decided to join me for this go-around.  Having conquered his first Beast last year at Tejon Ranch, he was curious to see if Big Bear was as difficult as I had made it out to be.  I was glad to have him along!
We drove up on Friday night and stayed at the ITH Big Bear Mountain Adventure Lodge.  I hadn't realized when I booked it that it was a Hostel with shared bathrooms and bedrooms!  I was very glad that I had opted for the Queen Size Bed Suite, which had its own bathroom and shower!  The room was just big enough to fit the bed, had a small flat-screen TV on the wall, and just a few ants and spiders to make you feel like you were roughing it!  The staff was VERY friendly and offered dinner and breakfast to any guest who signed up for it.  There was even a small bear, or large dog, named Yogi that was happy to follow you around!  It was perfect for what we needed, and only a few blocks from the main downtown center.  We were scheduled for a 10am race start on Saturday, so it was very nice to be able to sleep only a few miles from the venue, even if I tossed and turned all night!  Nothing against the lodge, I'm sure I would have tossed and turned no matter where I 'slept'.  I knew the pain and struggle that awaited and was simply anxious to get started!
Saturday morning eventually came and we hurriedly got dressed, ate a quick breakfast, and were out the door.  The parking line can be quite long, so definitely plan on arriving about 90 minutes before your planned start time.  Once we finally got parked, we walked over and climbed into the back of one of the shuttle 'buses' that would take us to the venue.
These shuttle 'buses' are actually flatbed trucks with railings that require you to stand tightly packed together, shoulder to shoulder.  (Everytime I see them ferrying loads of wide-eyed spartans toward the starting area I cannot help but think that this must be what it looked like during the French Revolution when cartloads of people were being paraded thru the streets on the way to the guillotine. . . or maybe I'm just being overly dramatic. . .either way, it would probably be highly frowned upon to throw cabbage at them as they pass by. . .probably.)  If you look at the picture I took of my son and I on the way to the event you'll notice that he looks a bit concerned and I look carefree.  I'm NOT carefree here, it's just I know what's lying in store for us and am resigned to it.  He has only heard stories and is questioning his sanity.  Compare these photos to the ones MUCH later when we are riding back to our car after having finished.  You will see that HE looks carefree and I look exhausted.  This is because he is now thrilled to have finished and I am, well, EXHAUSTED!  But I'm skipping ahead!
We continued to walk/hike uphill for the rest of the day, or at least that's what it felt like.  Scientifically, I suppose it could be proven that I went DOWNHILL just as much as I went UPHILL over the course of the event, but I sure didn't find much in the way of empirical evidence to support that theory.  Every time I started to feel good about going downhill I would simply turn a corner and be faced with another steep uphill climb.  Every time I thought I was coming to the top of a climb I had been gutting out I would see that there was another climb waiting for me as a reward.
There's a saying at the Big Bear Beast:
"You'll know you finished your final climb when you reach the finish line."
Trying to guess when you are done climbing will simply break your spirit.  It's best to picture your course as one big uphill slog from start to finish, that way you are not disappointed!
I had been thinking that my 17-Year-Old-Son would outpace me on the climbs and found out pretty quickly that I was correct.  As much as I tried to keep up with him, he was constantly gaining ground on me.  We were pretty close together 1/4 mile in when we came to the Over Walls (a couple of 4.5 – 5 foot tall walls you must climb over), but after about a mile of climbing he reached the Monkey Bars about 50 yards ahead of me.
The Monkey Bars were set up on level ground, for Big Bear, which meant that they were still at a SLIGHT uphill angle!  My 17-Year-Old-Son decided that he was going to do his 'stunt-man' routine to see if he could get a reaction from the crowd.  He stepped up onto the small wooden platform and jumped up, grabbing the metal truss directly overhead.  Just when his body weight started to swing forward he lost grip with both hands, dropping down in a way that his heels hit the platform at an angle and slid forward while the rest of his body fell backward.
His body rotated just enough to allow the top of his shoulders and the back of his neck to break his fall before completing the rotation and allowing him to pop back up to his feet, a little shaky, but standing.  The audible *GASP* from the crowd of spartans waiting their turn would have made a circus-acrobat blush, but he simply stated he was 'alright' and stepped back up
onto the platform for attempt number two.  He must have decided that anymore stunts would be too much for this audience, but unfortunately he only made it halfway before dropping off and heading to the Burpee Zone.  (In a Spartan Race, anytime you fail to complete an obstacle you are required to do 30 burpees as a penalty before moving on.)  My attempt was quite boring in comparison as I simply made my way across and rang the bell before dropping off.
my 17-Year-Old-Son was ready to move on and we got our first taste of downhill.  A very glorious, and very short lived time later we were right back to climbing and once again I was losing sight of my son.  I saw him briefly once I got to the Sandbag Carry where he was taking a bag from a fellow Spartan who had just finished.  I headed over to the pile of bags to select mine and found that they all appeared to be wet.  Although it was currently low to mid 50°F and sunny, it had been raining in the days leading up to the event.  What used to be a sandbag now resembled more of a cement bag!  Regardless, I was able to get one onto my shoulders and began my trek, you guessed it, uphill!  The loop we had to walk was in the middle of a snowboarders halfpipe, and too be fair, only the first half of it was uphill.  You are allowed to put your sandbag down as many times as you need to while completing the loop, and I took advantage of that twice.  Once about 3/4 of the way up the hill and again at the top.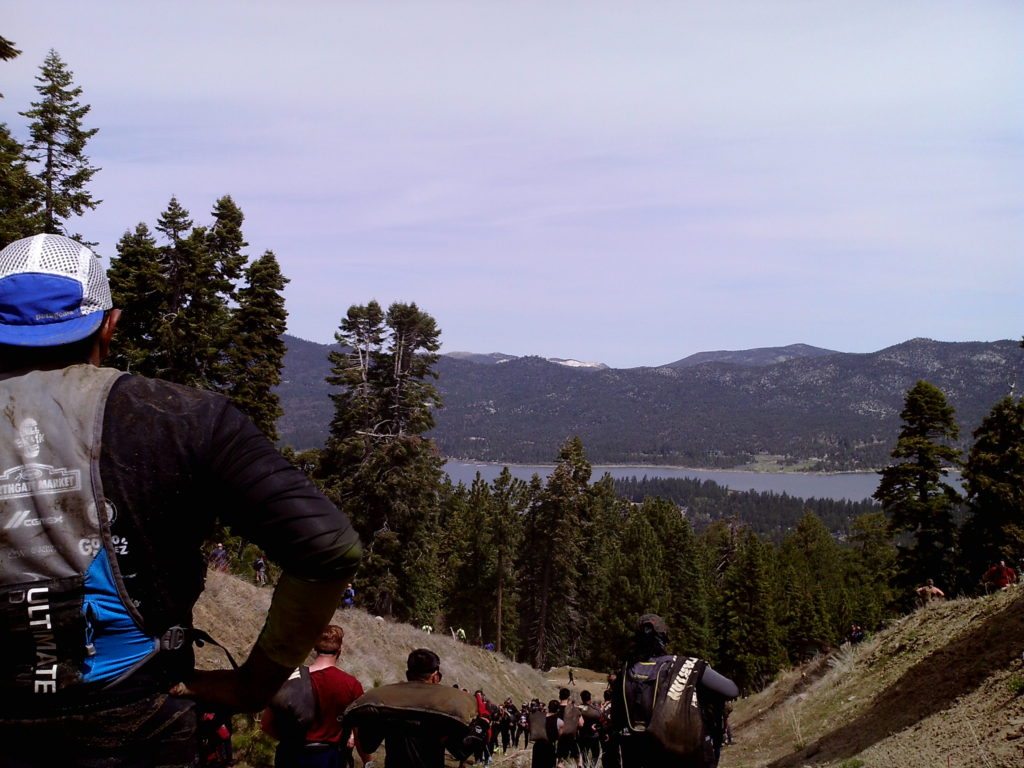 Going downhill the sandbag always feels much lighter and it wasn't a problem to complete that half in one carry.  My 17-Year-Old-Son was waiting for me when I finally finished and had a look of concern on his face.  Not for himself, mind you.  I believe he was beginning to wonder if I was going to make it thru the course!  I felt fine and told him that he was free to go on ahead if I was holding him back too much.
He told me it wasn't a problem, reminding me that I had waited on him on many courses last year.  Deciding to continue sticking together, we began our next climb.  Up until this point, we had climbed a total of 1,123 feet and descended only 292 feet in 1.45 miles.
My son continued to pull away from me
over the next 0.93 miles.  We had a short climb out of the sandbag area that led to a 436 foot descent, our longest so far!  Of course, at Big Bear, what goes down MUST go back up, so up we went again for a total of 643 feet gained.  Rounding the peak of this climb I was happy to see another prolonged downhill section!  The only thing standing between me and it was the 7′ Wall, which my son was currently sitting on top of.  Now, either the course designers had messed up, or they were taking some pretty uncharacteristic pity on us runners, because the approach to this wall was actually downhill!  I was feeling pretty good as I approached the wall at a run.  I might have been feeling a little TOO good as I jumped confidently off my left leg, until my calf-muscle decided to tell me it was already worn-out!
The muscle twinge hit me as I pulled myself onto the top of the wall, one leg straddled on each side.
I sat there for just a moment until I was sure I could drop down with my leg intact.  It wasn't lost on me that I was only 2.4 miles into a 13+ mile course and already getting signs of cramping up.  Once I had assured my son I was 'ok' we began the longest prolonged descent of the entire course.  We descended another 696 feet over the course of the next 0.76 miles, climbing only 3 when we approached the Olympus.  (I'm pretty sure that 3 feet of gain was simply getting up onto the obstacle!)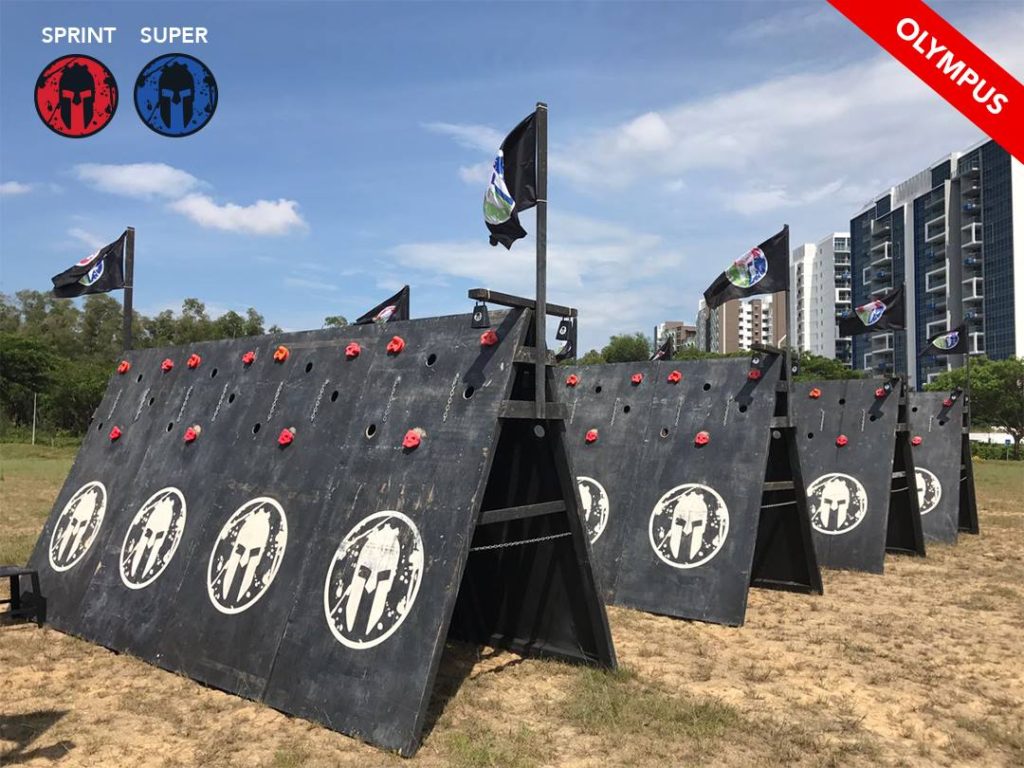 As I approached I was proud to see my son successfully ring the bell and finish.  This was the first time he had attempted the Olympus without wanting me to follow him thru incase he slipped so I could keep his feet from hitting the ground!  I knew he could do it, and now he had!  I hurried thru the obstacle and swung my hand to hit the bell, only to meet with empty air since the bell was already swinging back and forth.  I had mis-timed my swing and had to quickly re-grab the wall with both hands to keep from falling off.  Not a huge deal, but a slight heart-stopper that brought me close to my first Burpee Zone.  I waited for the bell to swing back and grabbed it so it would be still for the next person, dropped off and re-joined my son!  5 out of 33 obstacles down and 3.16 miles traveled in 1 hr 29 minutes and 47 seconds.  Yes, details matter!  🙂
I had been making sure to stay hydrated and was now feeling the need to dehydrate a bit, so I was very glad to see that, for the first time I know of, Spartan had decided to put a short row of Port-A-Potties FOR RACERS TO USE at Water Station #3!  Thank you Spartan!  Even though Spartan is all about pushing your limits and being able to survive in very rough conditions, it's nice to see that they are trying to make a FEW concessions on the longer courses toward bladder comfort!  These GLORIOUS Port-a-Potties were just before the Pipe Lair, which my son went ahead and completed while I stood in line for my new favorite obstacle.  While I was in there, I heard my son announce to me that he had finished the Pipe Lair and was going to go on ahead.  I told him that was fine and knew I may never see him again.  UNTIL I FINISHED THE COURSE I mean!
The Pipe Lair is a new obstacle this year and this was my first time getting to see it up close.  Not too challenging, but a nice change of pace.  You simply pick a lane and make your way thru, keeping in mind that you are not allowed to step on the ground or grab the top or sides of the obstacle.  You end up needing to bend under and step over a series of pipes in order to reach the bell at the end.
I enjoyed it.  It's nice to have an obstacle that has a very low chance of failure but still requires you to think about what you are doing.  Also, it was on flat ground which was nice.  Ringing the bell at the end I saw that the downhill had come to an end.  The past 0.21 miles had consisted of another 223 feet of descent and 3 more random feet of gain, which, again, I believe were simply climbing onto the obstacle.
Over the next 1.14 miles I climbed a total of 981 feet and descended 371.
I experienced my first bought of leg cramps that forced me to stop and sit while I took a shot of Pickle Juice and massaged my quads back to life.  I passed thru the Low Crawl which consisted of a series of ropes strung across the course about 3 feet high during a point where the trail took a turn and transitioned from a downhill section back into an uphill climb, and ended up at my arch-nemesis, the Twister.  I've only finished the Twister once before, and that was only a two section setup last year during the Spartanburg Beast in S.C.  This Twister was a three section setup, and like the Monkey Bars, it was traveling slightly uphill.  I felt I was doing pretty good to get halfway thru the second section before finally dropping off and heading for my first Burpee Zone.  I MIGHT have been able to gut it out, but I could already feel the pads of my hands stretching and was concerned they might rip open.  I was convinced I might still need my hands to be functional, so I was good with burpees.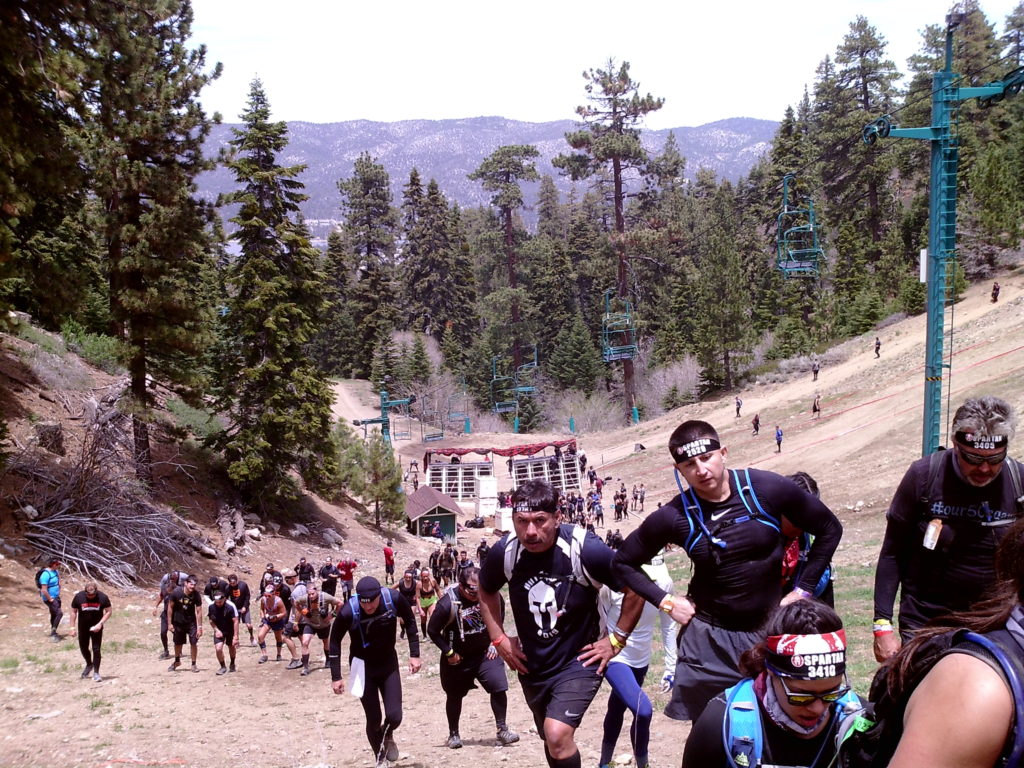 The last time I saw my 17-Year-Old-Son
on the course was as around 4.71 miles into the course as I approached The Box.  I had descended another 118 feet after Twister in only 0.18 miles, gaining another very strange 3 feet.  As I stood at the base of The Box I could see him about halfway up the next climb, looking back.  I waved to him and he waved back.  Seeing evidence that I was still alive and moving, he disappeared over the horizon, leaving me to face this new obstacle.  The Box is an obstacle that looks simple at first.  It's about 8 feet tall with a rounded edge on the top so as to be difficult to grab onto.  There's a pipe along the top about a foot back from the front that has a rope attached to it, allowing it to hang down the wall.  You can grab the rope and use it to climb up, but the tricky part is how to transition from the rope to the top.  My legs were pretty spent at this point, so after a few attempts to get over on my own, I was not too proud to get a boost from a fellow runner.  Instead of a Burpee Zone for this one, there was a Penalty Loop that would require you to make an additional climb up the hill you had just come down.  No thanks!
Hearing rumors from the volunteers that once you reached the mile 6 trail marker it got easier I rallied my legs for another 0.89 miles, another round of leg cramps, 600 more feet of gain with 174 feet of descent mixed in for brief relief, and the joy of reaching the 8′ Wall.  Although it usually takes me a few attempts, I can normally make it over ok.  However, with my legs on the verge of cramping up again, my feeble attempts to jump didn't even get my fingertips to the top of the wall!  Once again, I relied on a noble fellow racer to give me a boost.  I made sure to go back around the wall to return the favor before continuing on my quest to find that mile 6 marker and to see if the rumors were indeed true.  I'm not one to back down from a challenge, but my legs were begging for a break from all the steep up and downs.
True to their word, after I reached the mile 6 trail marker, things began to even out for a bit.
Not only did the course eventually join what looked to be an emergency access road that wound around the backside of the mountain at a very gradual overall incline, but this section of the course was more shaded than the previous.  The surrounding trees gave way occasionally to beautiful views of the surrounding snow caps.  Truly a beautiful section and a much needed mental rest.
It wasn't without its challenges, but they were all obstacle based and a welcome change of pace.  I fully enjoyed this 3.69 miles; running when I could, walking when I needed to, and making sure to take in the views.  There was still 702 feet of gain and 647 feet of descent, but after the brutality that the first 6 miles had been, the fact that this was as spread out as it was felt down right luxurious!  Along the way I completed Bender (a vertical wall of Monkey Bars that bends backward, causing you to need to climb almost upside down before crossing over and climbing down the other side), The Armer (a concrete medicine ball attached to a short chain that you must use to lift and carry about 10 yards out and back), and the Stairway To Sparta / The Great Wall.
I was happy to see this one again since it was one of my favorite new obstacles last year.  However, once again, my legs didn't want to jump high enough.  After helping another runner get over the wall, I accepted my third boost for the day.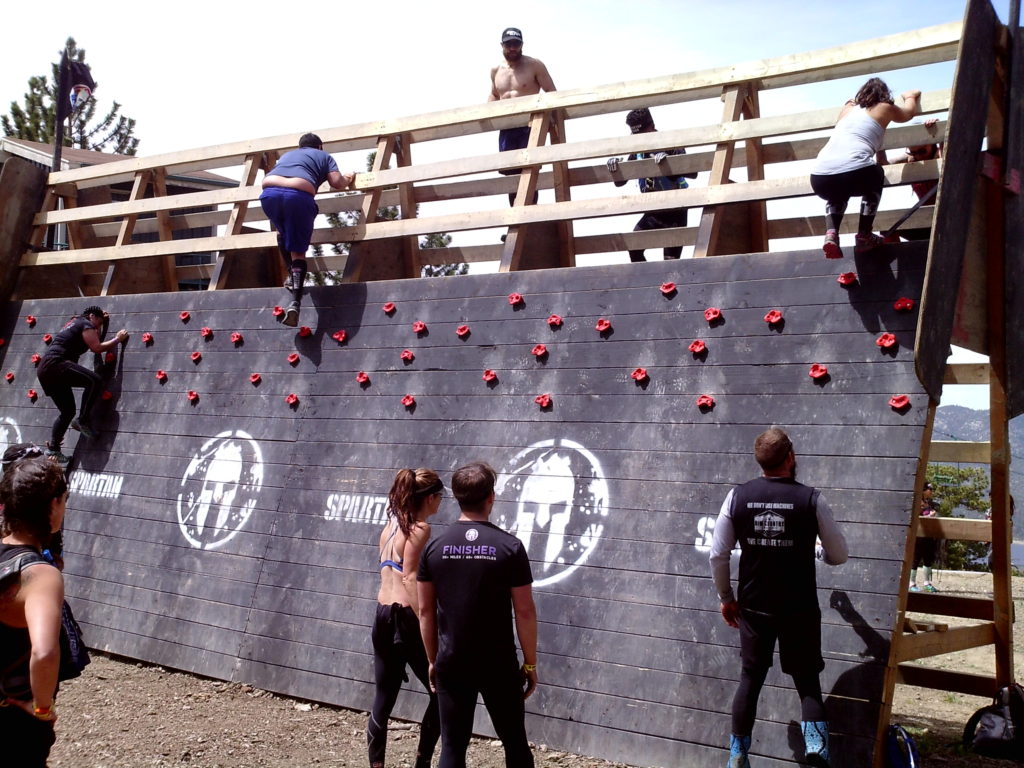 Shortly afterward I found myself at one of the new obstacles I had yet to try and had been a bit worried about.  Beater.
Beater is a bit of a combination between the Monkey Bars and the Twister in that it has horizontal Monkey Bars you must traverse, but these bars are attached to wheels that spin, causing you to need to swing on them in order to gain enough momentum to carry you far enough to reach the next bar.  This particular Beater was made up of about 5 or 6 of these wheels.  After talking with another runner who had done this obstacle earlier in the year I watched him go thru and he made it look relatively easy.  "Just ride the momentum," he had advised, meaning not to stop in the middle or it would be tough to get going again.  I followed his advice, and despite having to take a few swings in the middle, was able to 'ride the momentum' to the other side without much problem.  I loved this obstacle!  Nothing feels quite as good as successfully completing an obstacle that you had been worried about!  He was even nice enough to have stopped to cheer me thru and give me a fist bump when I finished.  Overall, the Spartan Community is a very nice and encouraging group!
Just a short 0.08 miles and 33 feet of climb later found me once again at the top of the mountain.  I was now 9.37 miles into the course and knew from past years that this was the last of my major climbs.  There would still be climbs, of course, but they would be shorter and not as steep.  I just had to get thru the Tyrolean Traverse and things would be mostly downhill from there.  At least it would feel that way mentally since I knew I had already come thru the worst the course had to offer.  Plenty of challenge left to come, but nothing compared to what I had already done.  I helped coach a fellow spartan on how to complete the obstacle and watched as she succeeded.  Then it was my turn.  Other than feeling drained 3/4 of the way thru, I was able to finish and start my descent.
At this point I'd like to point out that the movie "The Sound Of Music" is very misleading.
When Julie Andrews is seen hiking and belting out 'Cliiiiimb Everrrryy Mountaaaaaain' you can tell she doesn't know what she's talking about.  The mere fact that she can smile and sing tells me she isn't really climbing a mountain, let alone EVERY mountain!  Spartan, however, takes this message to heart and makes SURE you DO CLIMB EVERY mountain.  At least once!  There should be a scene mid-song where the music stops and she has to take a break because her legs have locked up.  But I digress!
1.92 miles later I had descended 988 feet and climbed only 515.
I'd completed the Inverted Wall along with the Z-Walls and Crawl Tubes.  Now I found myself at the Vertical Cargo 2.0.  The 2.0 part referred to the freshly added Irish Table you had to climb on top of before you could scale the cargo net.  In case you don't know what an Irish Table is, it's a floating platform that requires you to get up without the use of your lower body, since it will simply swing freely underneath.  This particular Irish Table was about 6 feet tall.  I am happy to say that I was able to get up on my first try!  Up and over the cargo net I went, in search of the finish line.
The final 2.15 miles was mostly downhill.  With only 222 feet of gain and 801 feet of descent, the hardest part of this section was the 11 obstacles stacked on top of each other in the final 3/4 mile.  However, at the start of this section was the Hurdles.  A very simple obstacle that used to be at the very start of each course.  It consists of a wooden beam about 4 feet high you must get up and over.  Typically there are a few of these, and this course had three of them.
As I stopped to take a picture I heard a voice to my left say,
"Taking a picture for your blog?"
At first, I assumed he was inferring that anyone taking random pictures of a snow drift would be writing a blog, so I responded
It wasn't until he asked if my son was here too because he thought he saw him earlier that it dawned on me that this stranger must have read one of my posts and recognized me from it, and apparently my son too!
"he's somewhere way ahead of me!"
That's where I met Jeremy, the very first person ever to recognize me on a course!  I had a very short and very pleasant interaction with him before sliding down the snow drift and continuing my adventure.  I kicked myself later for not getting a photo with Jeremy, but he was kind enough to email me a shot to use!  Thanks Jeremy, it was great to meet you.  Getting recognized by a reader was one of my personal highlights!
On my way to the final obstacle gauntlet I finished the Atlas Carry, which felt MUCH HEAVIER than normal.
Probably had something to do with my legs being pretty well shot!  I didn't have much time to wonder about the exact weight however, as up next was the Helix which was another new obstacle.
This particular obstacle was one that I had mocked a few times when I saw it online as it didn't look too difficult.  Getting on it is another story though.  I completed it, but it's not as easy as I once thought.  I don't think many people are going to fail it, but you definitely need to think about what you're doing since there aren't many places to put your feet where they won't slip.
Now I was into the last gauntlet of obstacles.  With less than a mile to go, this could turn into a burpee-fest real quick!  Entering into the Tire Flip I immediately saw a guy about my size struggling with the Tire at his waist.  I asked if he needed help and he readily accepted, so I went over and together we finished the flip.  He wanted to attempt the second flip on his own and was able to complete it, so he asked if I would like help too.  I thought I should be able to do it but asked if he would stick around just in case, which he did.  I found that the reason he was struggling with the first flip was that it was  ever-so-slightly uphill!  I too got it to my waist before asking for help.  The second flip was all me.  We fist bumped and he ran on.  As I was exiting the obstacle area I noticed another guy struggling.  I decided to offer help to him also since no one else was around.  Together we completed both of his flips.  I had debated not offering to help since there were plenty more obstacles to go and I wasn't sure how much more my legs had in them, but the Spartan in me didn't want to leave him hanging.  Plenty of people had helped me along the way and I was glad to pay some back.
Spear Throw was up next and I had been looking forward to it.  Ever since building one in my backyard I have had time to practice and get comfortable with throwing overhand.  No more Granny Throw for me!
I stepped up and got my spear balanced the way I like it.  I was happy to find that the spear felt nearly identical to the one I built!  The targets this year are a little more narrow than they used to be, but no worries.  I knew this when I was practicing and had gotten pretty good about hitting dead center anyway.
I went thru my familiar steps, dialed in my aim, raised the spear up and threw.
It felt great as it left my hand!
It looked beautiful as it cut thru the air in a perfect arc!
It was very surprising when it flew just to the right of the target!
What?  Everything had felt perfect!
It wasn't until much later that I realized in my exhausted state that I had watched the tip of the spear as I threw it and hadn't lowered my eyes to find the target.  Basically, I hit what I was looking at.  Unfortunately, I was looking at the sky.  Oh well, I'll hit it for sure in Monterey!  That was only my second trip to a Burpee Zone, but those 30 burpees didn't make my legs any happier.
(I found out later that my 17-Year-Old-Son hit the target for the first time that day, and I missed it!  Awwww, they grow up so fast!)
I knocked out the Rope Climb and the A-Frame Cargo Net without any problem.  The Herc Hoist, however, was a different story.  Though I haven't had any issue with it for a while, this time when I had the sandbag just over half the way up I could feel my grip start to burn out and the leg I was using as a brace start to cramp up.  Luckily I saw another spartan about my size standing behind me and called him over.  He gladly helped me finish the obstacle and avoid another Burpee Zone!  Thanks random stranger!  I don't cheat and I do all 30 burpees for my failures, but each year at Big Bear by this time on the course I'm never too proud to get help so I can get off the course!  I'll know I've accomplished all I need to at this venue when I can finally finish strong.
Plate Drag was interesting in that it was on a slight incline.  However, instead of pulling the plate uphill you pulled it downhill.  Of course, this meant that to reset the obstacle you had to drag it by the short chain attached to the back of the sled UPHILL, in the mud.  Not as bad as it could have been, but it did cause my legs to cramp up yet again on the short walk from there to the Bucket Carry.  I found myself sitting in the field between the two obstacles pounding on my quads in an effort to get them to loosen enough that I could finish the course.
Thankfully, the Bucket Carry was lighter than normal and the loop wasn't as steep as it had been in the past.  Regardless, I set the Bucket down a few times before I finished.
By this time a slight breeze had kicked up and the temperature had dropped a bit.  Just in time for me to enter the Rolling Mud and Dunk Wall!  I was actually happy to enter the cold water since it felt good on my legs and I knew it would help keep them from cramping AGAIN before I got to the finish line.  I quickly dunked under the wall to exit the obstacle and came up against a very devious Slip Wall.  Normally the ropes on the Slip Wall come down to the ground, but this particular setup had the ropes only halfway down the wall!
When the Elite runners had gone thru earlier in the day the wall and the approach were dry, making it possible to run up and grab a rope.  By now, however, the entire approach and wall were one giant mud slick!  Oh, there were still people making it up, I was just not one of them.  I tried about 8-10 times before admitting defeat and doing 30 burpees.
Only the Multi-Rig and a Barbed Wire Crawl stood between me and the finish!
I didn't even attempt the Multi-Rig last year because I was so mentally defeated.  This year I was determined to complete it, and I ALMOST did!  This Multi-Rig setup consisted of a few rings up front, a horizontal pipe, another ring, two ropes, and the bell.  The entire setup was on a slight downhill slant, so the quicker you tried to get thru the more your momentum would build.  I must have tried to move a little too quickly because when I got to the end of the pipe and was reaching for the ring my body was twisting sideways just enough that I hit the edge of the ring, batting it away from me.  My momentum carried me off the pipe and onto the ground.  One last set of 30 burpees.
I'd never seen a course end with a Barbed Wire Crawl, but I guess the course director wanted to see you finish on your hands and knees?  Or in my case, scooting on your rear?  Either way, I finished with a time of 07:07:22 and was greeted by my son who had already cleaned up a bit and changed.
He had finished almost a full hour before me with a time of 06:14:33!  In my opinion, this year was the most difficult Beast that Big Bear has ever had.  Spartan Race had said it was a 12.2 mile course and about 5,200 feet of elevation gain.  I clocked it at 13.44 miles with 4,829 feet of gain.  No matter which one you believe (I choose my Garmin), it was brutal.  I experienced a fair amount of leg cramps, but overall I felt better than I had in past years.  I wasn't mentally defeated when I reached the end, and I never really felt like I was out of energy.  Once I can get my legs to NOT cramp up I think I'll be able to get my time down considerably.  Of course, that means there will be a 4th trip in my future!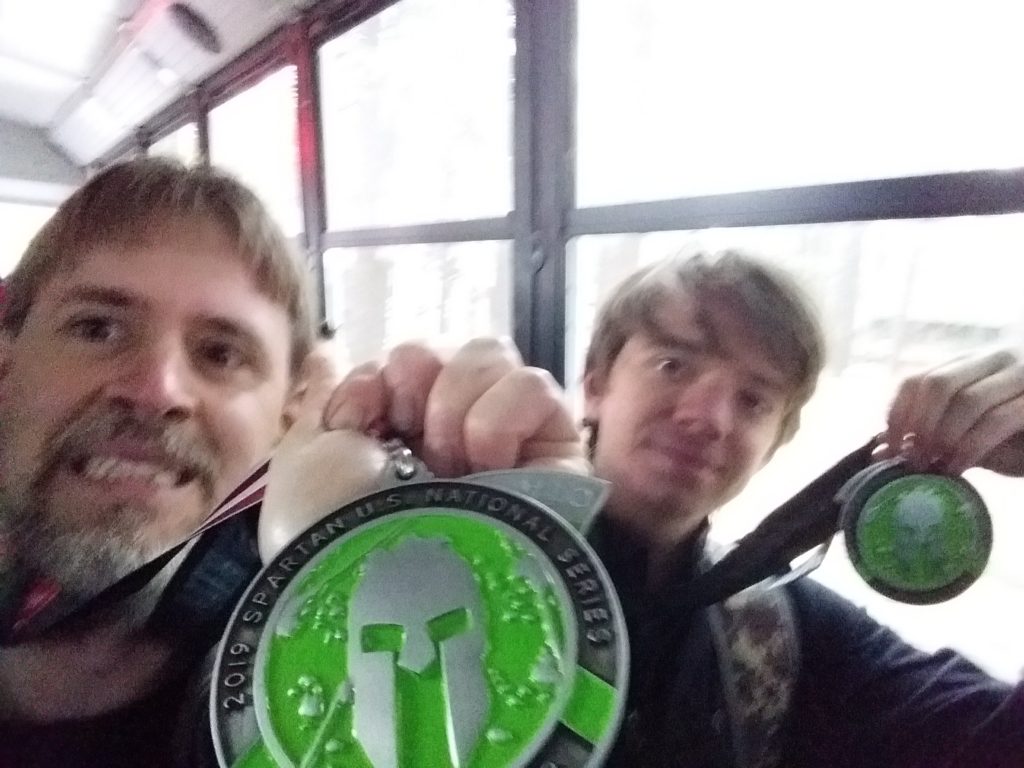 After I got cleaned up a bit and changed, my 17-Year-Old-Son and I headed back to the Hostel to take a proper shower.  Then it was off to Fire Rock for a burger!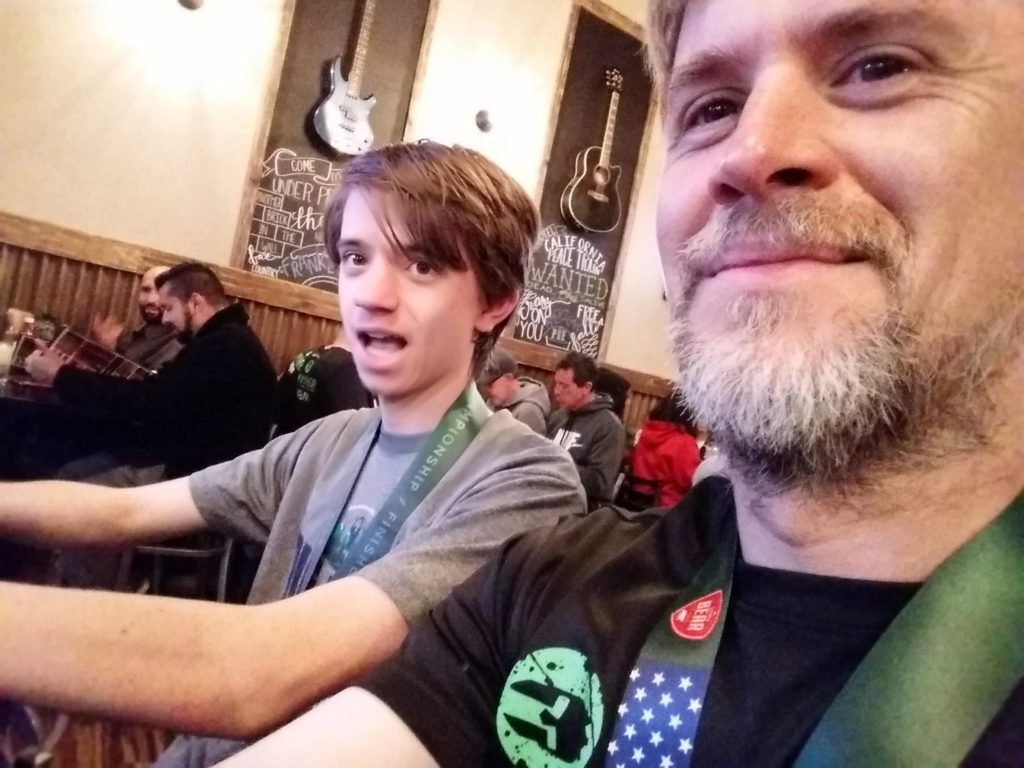 Once I had recovered a bit, I reached out to Danny and Michelle, a couple friends of mine that were also running the Beast.  I hadn't heard from them and began to get a little concerned!  Danny ran with me and a few other friends last year, but only Danny came back!  This year, however, he had talked his wife into joining him.  She's no stranger to Spartan, but hadn't done one since 2013.  It turned out that she had tweaked her knee on a descent around Mile 5, but instead of quitting, she gritted her teeth and continued to move forward one step at a time, fighting back tears when needed, but determined to finish.  What probably would have been closer to 7 hours turned into just over 9!
Congrats to both of you!  To Michelle for conquering the pain like a true Spartan Warrior, and to Danny for encouraging her and staying by her side the entire time, lending her his strength.  I'm glad I know friends like you that I can draw inspiration from!
After a short rest, my 17-Year-Old-Son and I returned the next morning for a volunteer shift.
It was a balmy 31°F and snowing at 6am when our shift was supposed to start.  However the weather had turned bad enough that Snow Summit was closing off access to the mountain.  They ended up having to cancel the Beast heats that were planned for that morning and push back the Sprint start time to 9:30am, giving them just enough time to re-route the course.  Snow Summit was only going to allow access to the base of the resort, so the new course was setup to be 2 laps on a 1.5 mile loop.
Originally, three of us had been assigned to work the Helix obstacle, but at the last minute my son and I got reassigned.  My son was taken to the Plate Drag and I was sent to the Bucket Carry.  Soon after the Elite runners started coming thru, my son was reassigned again to the Bucket Carry with me.  It was a very interesting volunteer shift.  We had dressed in many layers so the cold wasn't an issue, however it did alternate at times from snow, to rain, and back, even mixing in some hail at one point!  We ended up working a little past our normal shift but we didn't mind.  I always find it fun to help on the course!  Besides, how often do you get to work in the snow in Southern California?
By 1pm it had warmed up to a toasty 39°F, and our shift was over.  We earned our Free Future Race codes and began the 3.5 hour drive home.  Exhausted, but happy.
For finishing this Beast course we earned a Spartan Beast Finisher Shirt, Spartan Beast Medal, and Spartan Beast TriFecta Wedge Piece.  For an additional $30 we picked up the Venue Shirt also.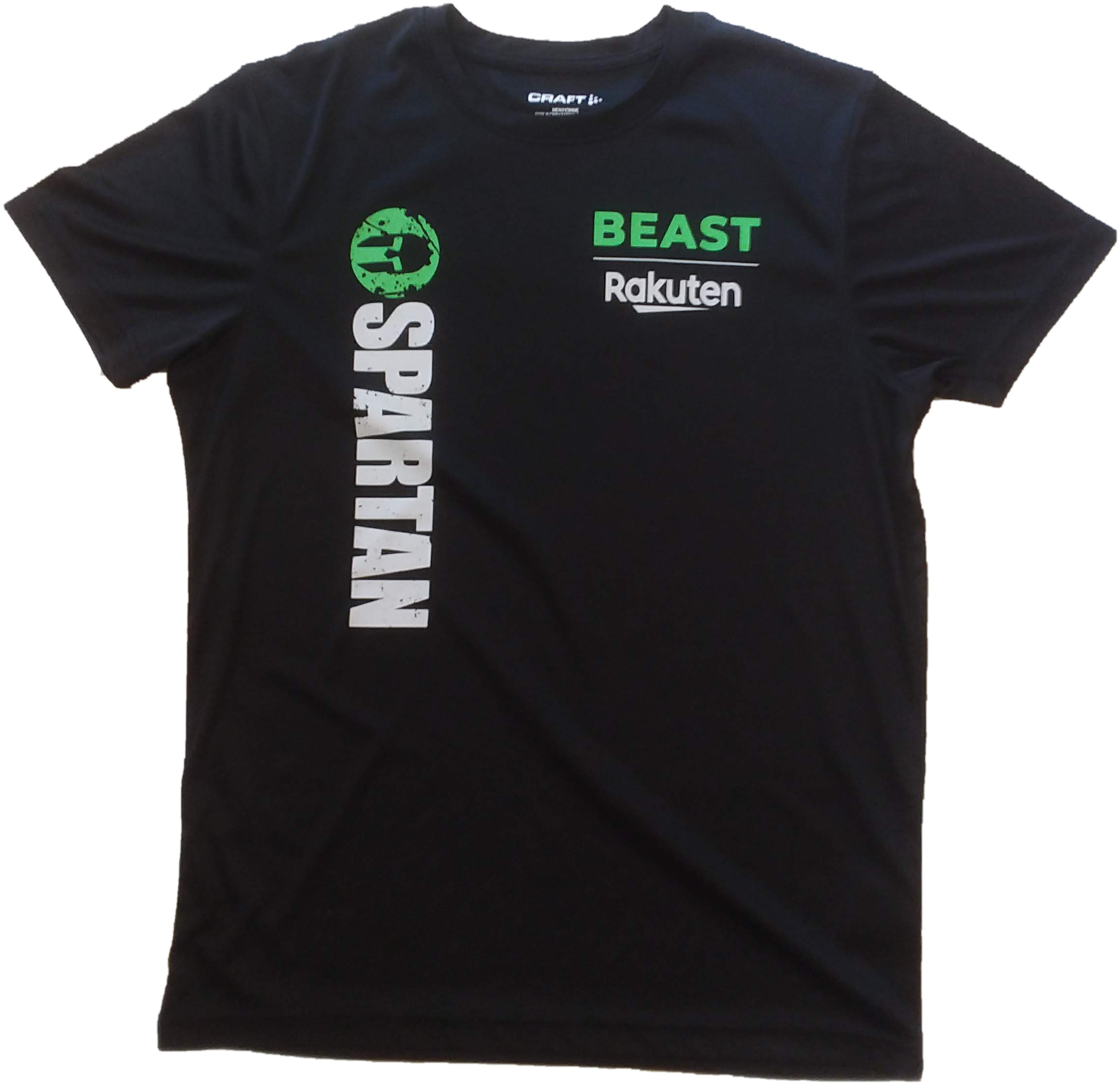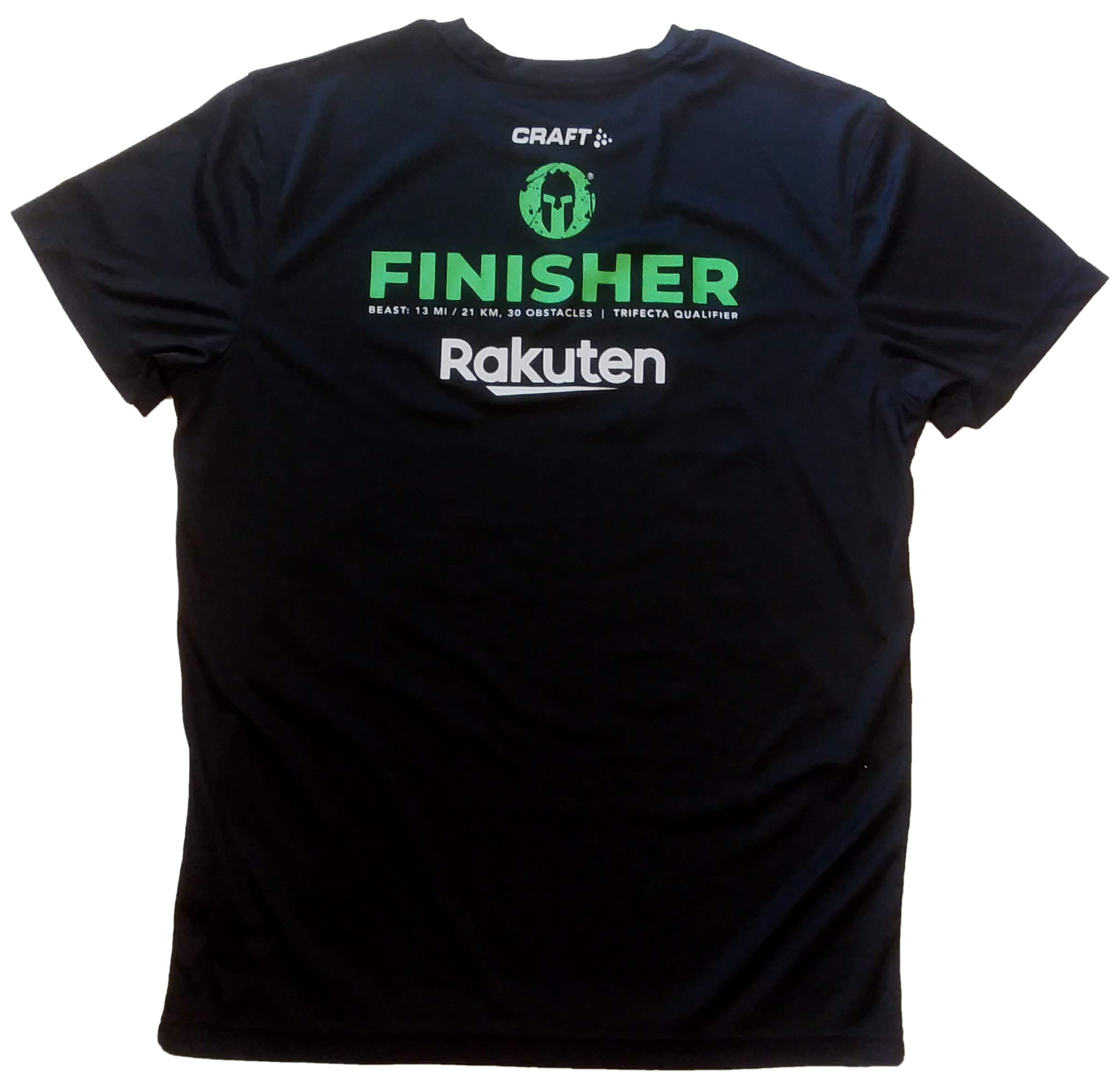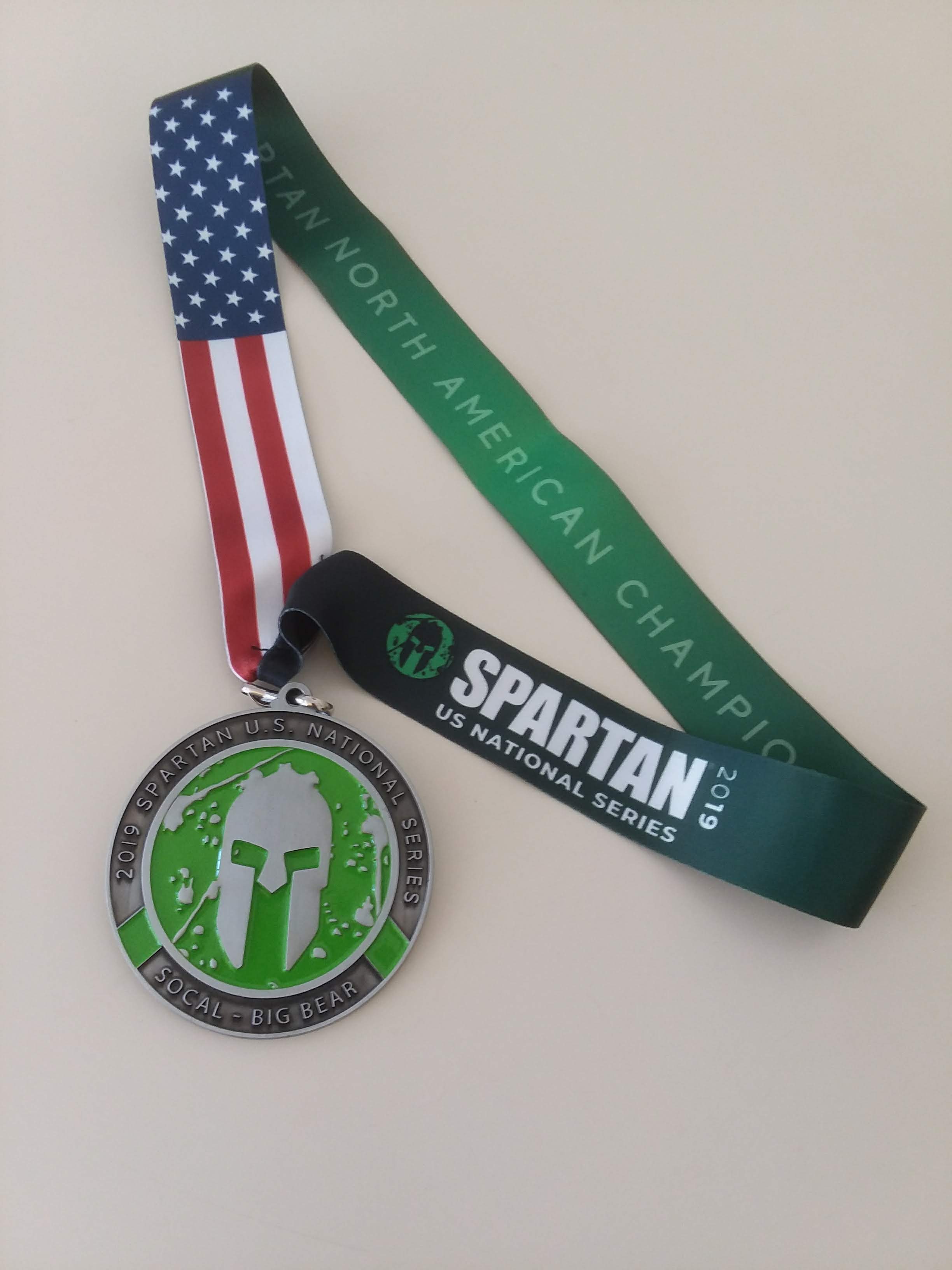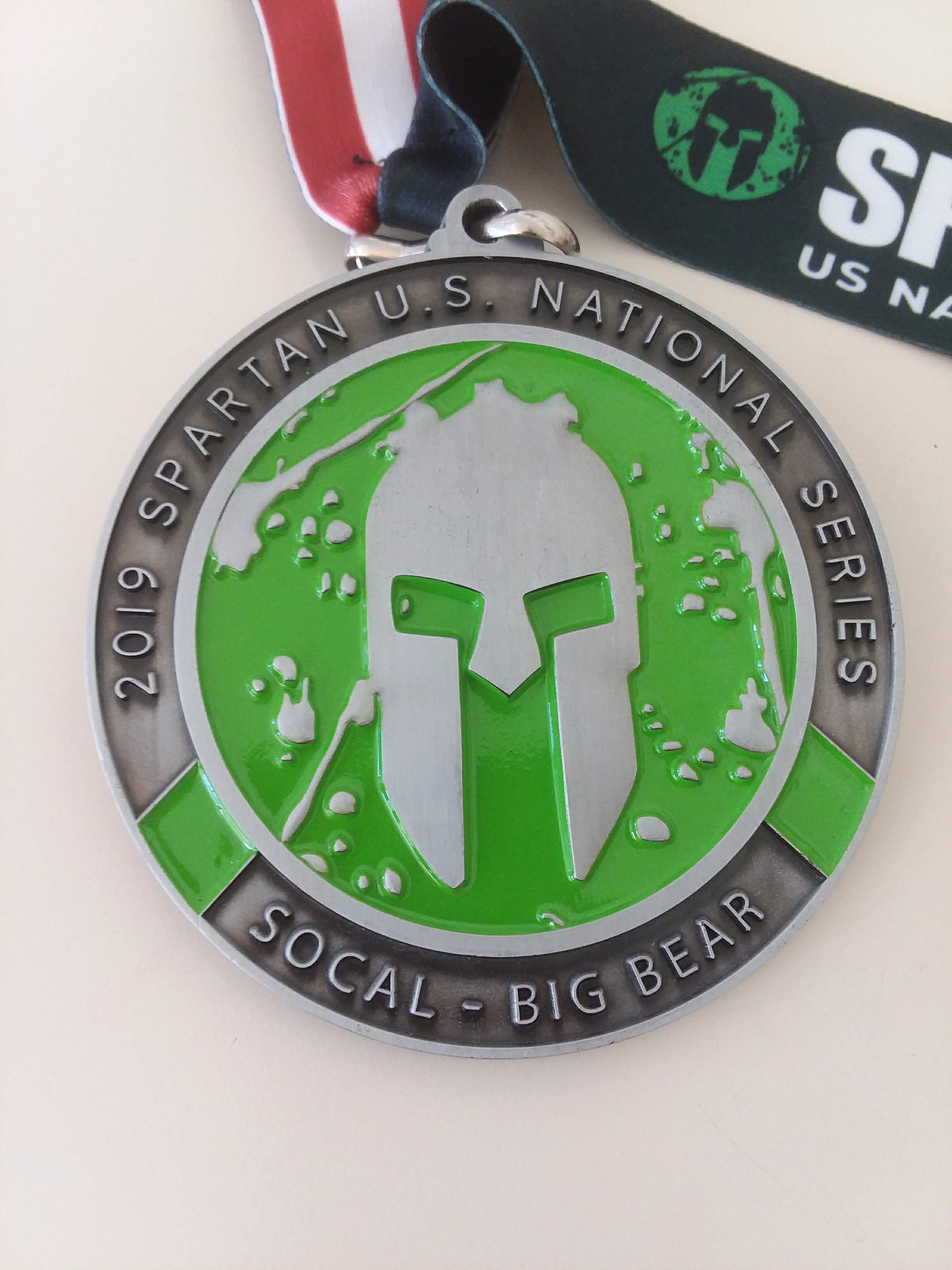 Spartan_Beast_Shirt_Finisher_2019_Front_v01
Spartan_Beast_Shirt_Finisher_2019_Back_v01
Spartan_Medal_Finisher_2019_Beast_BigBear
Spartan_Medal_Finisher_2019_Beast_BigBear_CU
Spartan_TriFecta_Wedge_2019_Beast_v01
Beast TriFecta Wedge Piece
Spartan_Beast_Shirt_Venue_2019_BigBear_Front
Venue Shirt, Front
($30 extra)
Spartan_Beast_Shirt_Venue_2019_BigBear_Front_CU
Venue Shirt, Front, Close Up
($30 extra)
Spartan_Beast_Shirt_Venue_2019_BigBear_Back
Venue Shirt, Back
($30 extra)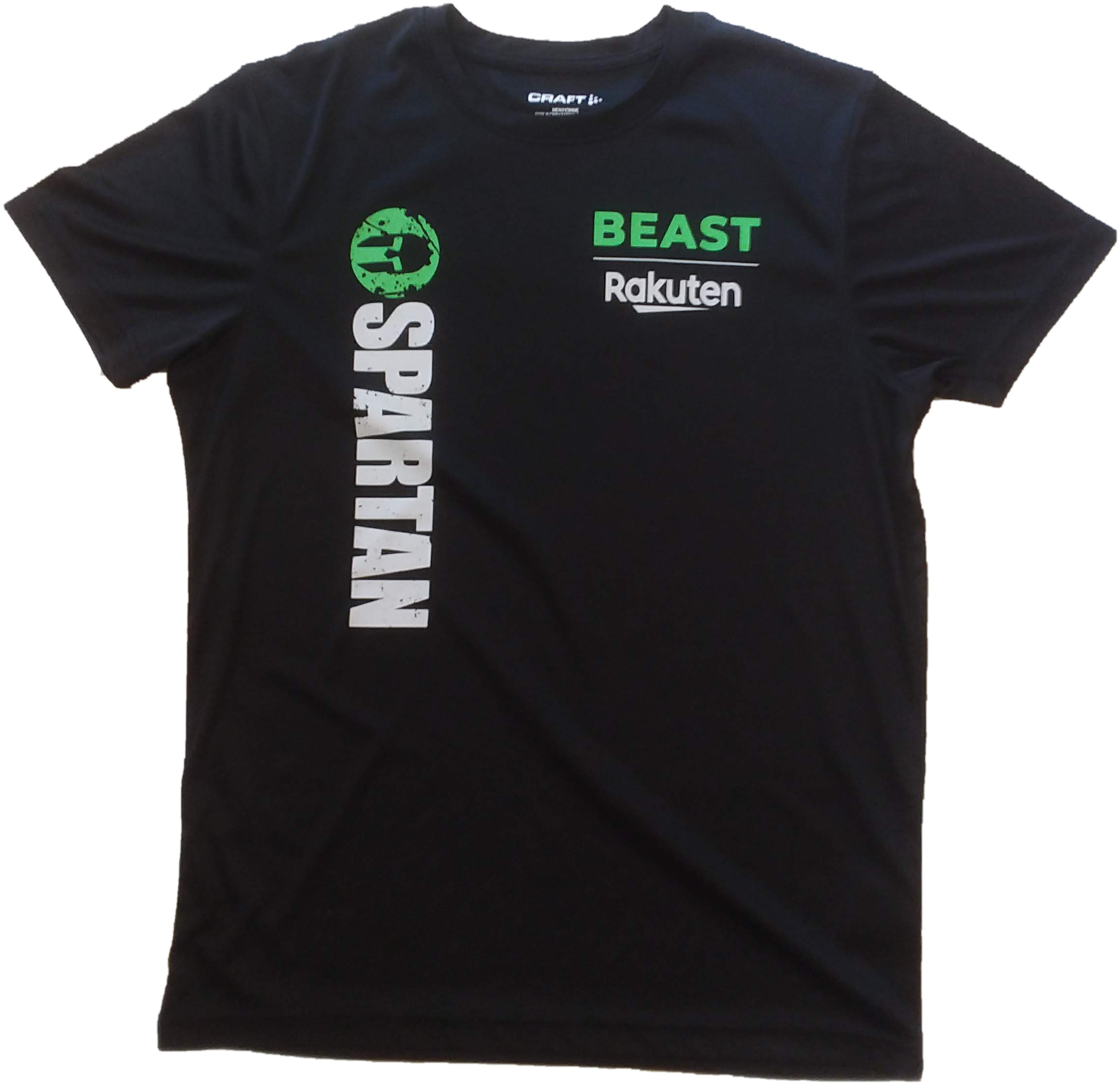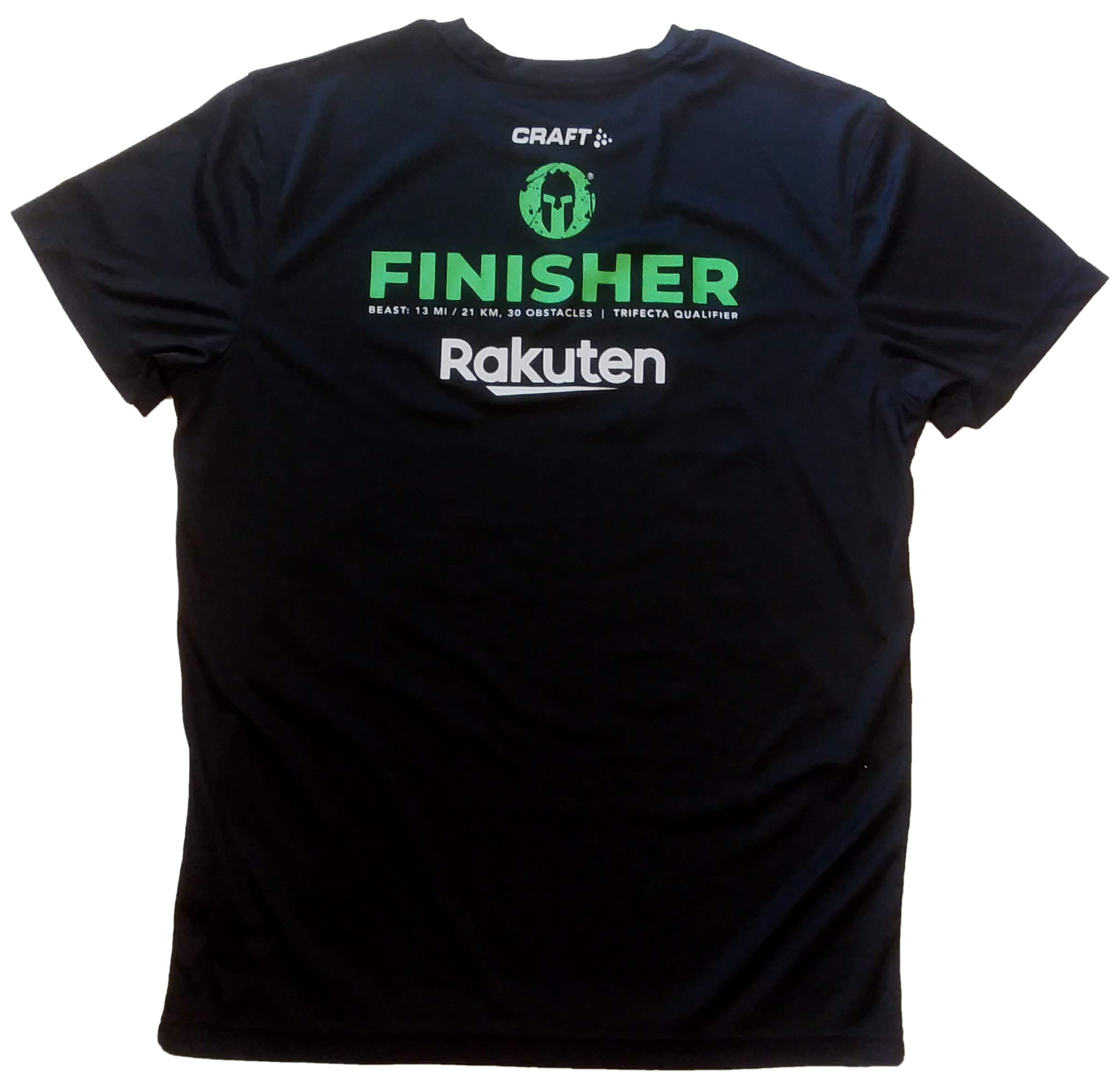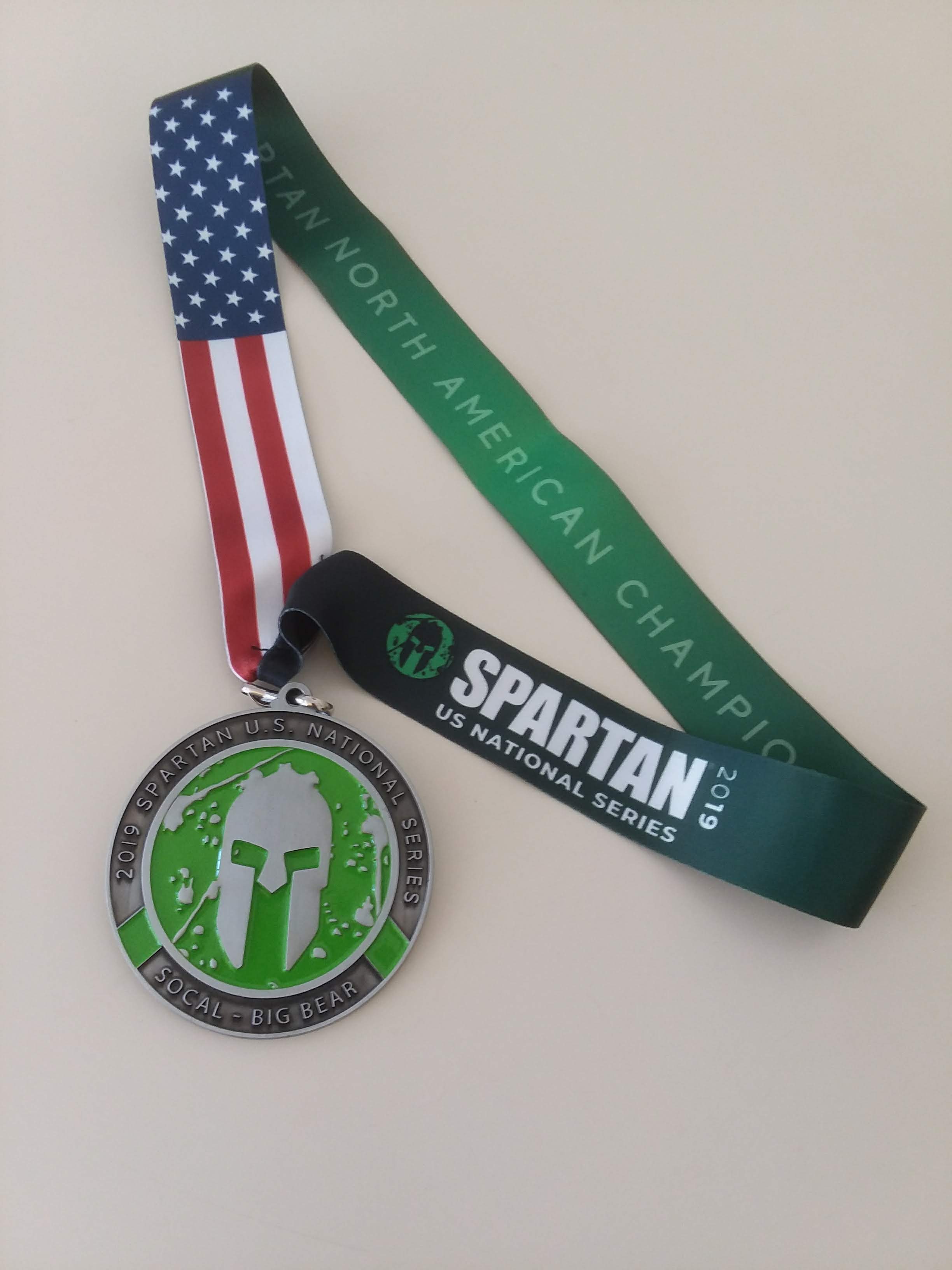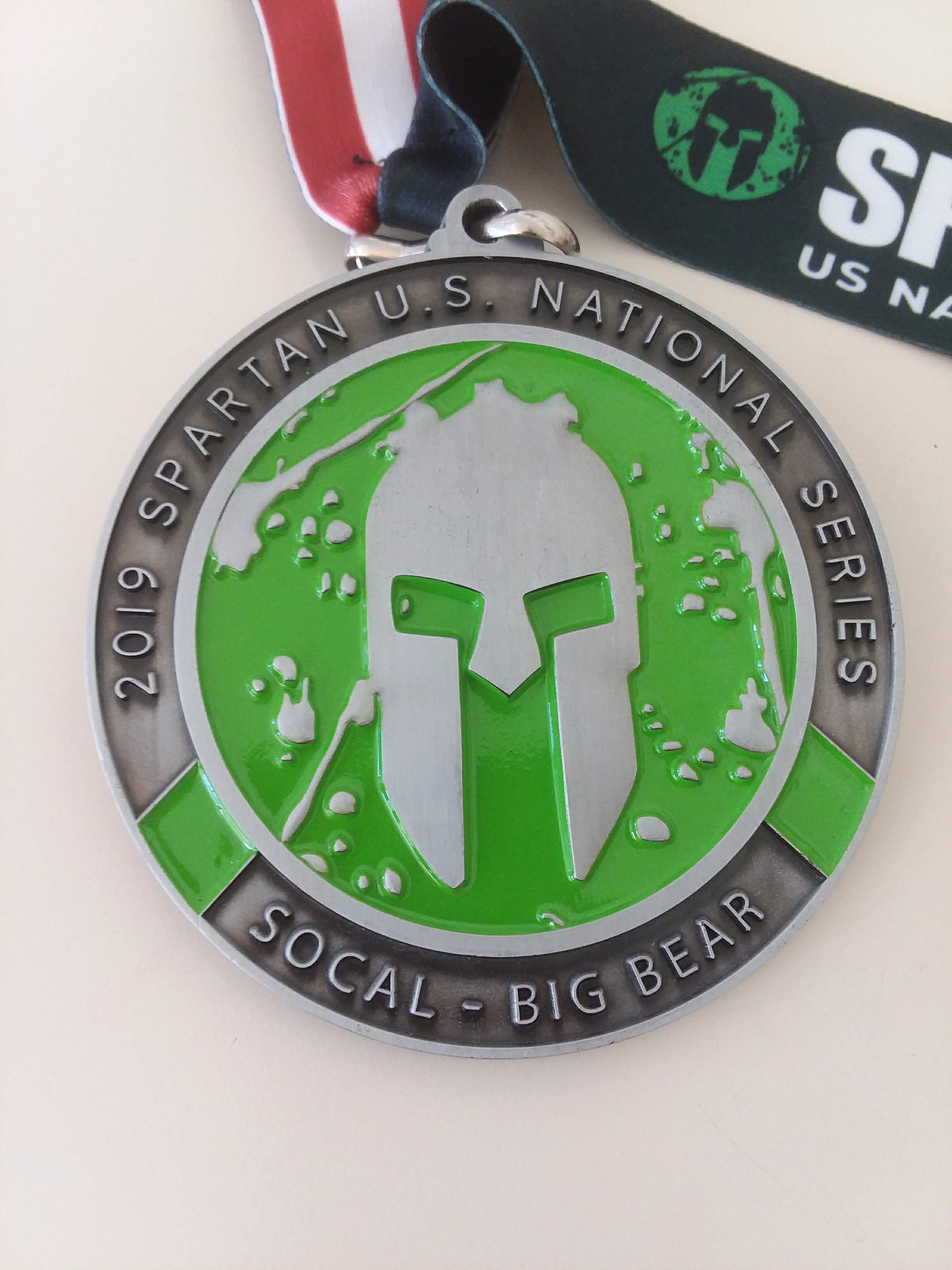 If you like what you've been reading on my blog, please subscribe to it below.  I PROMISE that the only thing that will happen is you will get an email letting you know when I put up a new post with a handy-little-link directly to it.  Subscribing lets me know that people are reading and enjoying what I'm writing.  Don't get me wrong!  I'm going to write this whether you enjoy it or not!  🙂
Subscribe Via Email to be notified of new posts!